Create a Beautiful, Responsive Email in Seconds
We're thrilled to introduce FireDrum 5.0 – the newest, latest and greatest email template builder.  We've taken the best aspects of drag and drop email building and combined it with the unparalleled ease of use. Email marketers now are able to create stunning, brand-focused campaigns with just a few clicks. Knowledge of HTML and graphic design is not required!

Drag and Drop Email Features
To build emails in FireDrum Email Studio™, you simply drag and drop building blocks (found under the "Blocks" tab on the left panel), and images into the canvas. Without having to worry about the layout and responsiveness of your email, you can now concentrate on your actual message and template design. Email newsletters with an inspiring design and professional layout will most likely avoid the trash and spam boxes of their subscribers.

Live Mobile & Tablet Preview
See the mobile and tablet versions of your email, as you edit it live! Mobile views have now surpassed desktop, seeing the mobile view as you create your email ensure you don't miss out
on your biggest audience.
To help eliminate formatting mistakes and provide insight on object placement, we added a live mobile/tablet preview option to your campaign editor. Toggle this live preview on/off by clicking the "preview" navigation option found on the top of your canvas space.
Don't fear, email marketers! We still have our Inbox Preview Assistant tool (found under the "Test" navigation on the top bar). This preview test generates 54 different previews for popular mobile devices and browsers.

Complete Brand Customization
Create brand awareness by styling your email to match your website and product branding – no coding required! Users have complete control over the styling of text, background colors, fonts and more in the "content and styling" control panel. Style the entire document at once (global block setting), or style each block separately (single block setting). For custom styling within text blocks (titles, highlighted sections, etc.), you can use the separate, condensed style panel that hovers over each text area.
Content Tab
Toggle on/off certain block elements (i.e., in your "Image with Text Block," you might want to hide the button. Hiding the button in a single element will not change other blocks).
For certain image blocks, you can increase or decrease the image height. (Note, images automatically scale to fit the block. Decreasing image height might shrink image width).
For blocks with button and images, you can change the link and alignment of the element.
If you'd like to exclude "View as Web Page" and "Forward Email," in the header, you can toggle the "show header" option.
Style Tab
Change the background color of your email (the color behind your blocks), by inserting a hexadecimal color or choosing a color from the color pallet.
Change the external background color of your email (border around the blocks), by inserting a hexadecimal color or choosing a color from the color pallet.
Change your heading and section titles underneath the "title" section. Toggle the block options at the top of the panel to change one block's title styling.
Change your text styling underneath the "text" section. Toggle the block options at the top of the panel to change one block's text's styling.
Change the button colors and font styling underneath the "button" sections. Changing the corner radius of the button will increase or decrease the corner roundness (0 = square buttons). Toggle the block options at the top of the panel to change one block's button styling. (Note, blocks will multiple buttons will stay relative to each other).
Magic Wand Feature
Based on customer requests and suggestions, we created the "magic wand." Instead of copying and pasting your content into a different block, you can transform the appearance of your current block.
The magic wand on the "Image with Text" block will switch the image and text position (from the left column to right column).
The magic wand on the "Full Width Image," "two image," "three image," "four image," and "five image" blocks with add padding space between images.
The magic wand on the "Social Share & Follow" block will change the icon style (styles include: retro, modern, circular black and white, and circular colors).
The magic wand on the "Company Logo" block will change the image size to small, medium or large.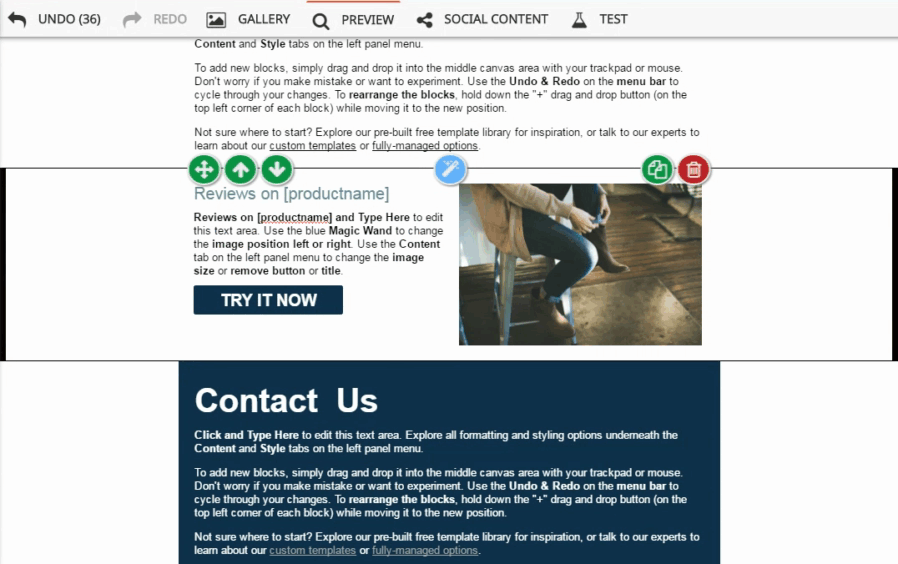 Emoji Support 
With all the emoji's + email marketing hype, we had to jump in. Emojis are a fun way to engage subscribers and make your email stand out from other companies. In the "Subject" tab on the left panel, you can choose an emoji for your subject and preheader lines by clicking the grey "smiley" face on the right side of each text area. You can search for your favorite emoji's by typing keywords into the search bar on top of the emoji palette. (I.e., Dog, Cat, Golf, etc.)
Social Media Marketing & Automation
Social media marketing has never been this easy. To save our users time, we created an automated social media share option that publishes their newsletter to Facebook, Twitter and LinkedIn once the email deploys. The "Social Content" navigation bar on top will open a new panel on the left side of the editor.
Change your social message for each network underneath the "Description" section.
If you'd like use a different image from the generated thumbnail, simply choose another image from your Image & File Library. (Drag and drop new images into your Image & File Library by opening the Gallery" navigation tab).
Toggle on/off the "use subject as title," option if you'd like to change the message title.
Preview the social network messages on the bottom of this tab. Make sure to add your social media accounts/pages in your email settings before deployment.
Free Email Templates, Added Daily!
We are adding free email newsletter templates to our library, daily! These email newsletters are in-sync with current trends and tested in over 50 different mobile and browser previews.
Responsive HTML email template
Drag and drop compatible for FireDrum Email Studio™
Trendy email layout design
HTML template (editable for advanced users)
Includes professionally designed graphics
Includes royalty free, high quality images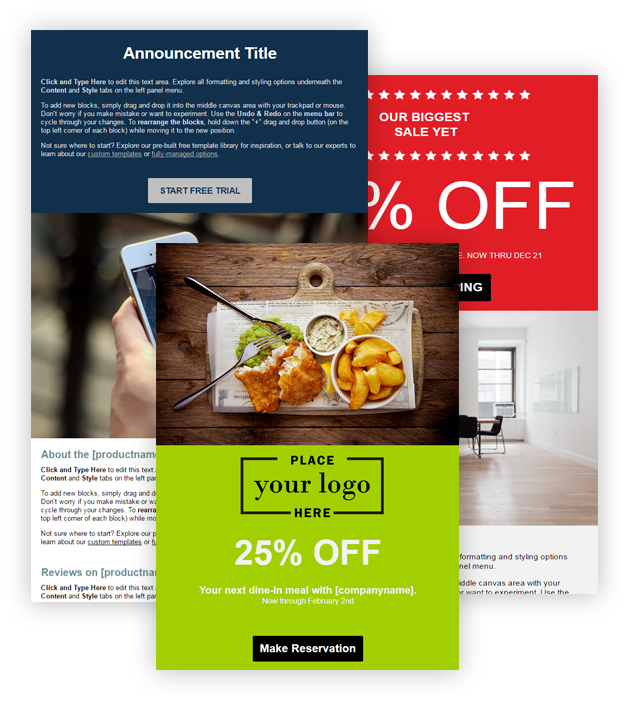 With all of these robust automated features and tools, we are confident in saying that FireDrum Email Studio™ is for everyone (even the tech-phobic marketers).  Not convinced to try our new email builder yet? Explore our full list of features or reach out to our email marketing experts to set up a free walk through, today.

---
Want Free Email Newsletter Templates? Check out our hundreds of free email newsletter templates, updated daily. These templates are completely customizable to fit your brand and your message.