A responsive email template builder.
Dare we say, you'll actually have fun building emails now!
Create professional, mobile responsive emails in minutes. Whether you decide to create your own or customize one of our free templates - you'll be sending beautiful emails in minutes, that looks great on all screen sizes.
Save time by changing ALL button colors, paragraph titles, and other elements throughout the entire email with one click!
In fact, when you create an email, you're actually creating a template that can be re-used and modified later, saving time creating future emails. We make the email building so simple you can focus on your message instead.
Drag and Drop Builder
Take a look at it in action.
"It is simple enough that I can use it. That's a much bigger statement than you may think. We have used the Firedrum team for 10 plus years and they have always exceeded our expectations. Customer service and a product that works is a winning combination."

Howard F.
Email Previews by Email On Acid included!
See what your emails look like on 69 clients and devices. View the emails in portrait or landscape so you know how your email will look for every subscriber before you send. A tremendous value included with every paid account.
"Great drag and drop designing. The interface with images is fast and easy. Creating a newsletter on Firedrum is almost perfect. Ease of drag and drop and auto sizing is terrific."

Angel B.
Free Customizable Templates
FireDrum offers hundreds of beautiful already made and mobile ready email templates too. You can use them as they are, or customize to suit your needs. From promotions, to holiday, to industry specific, you'll have all of them in your email arsenal.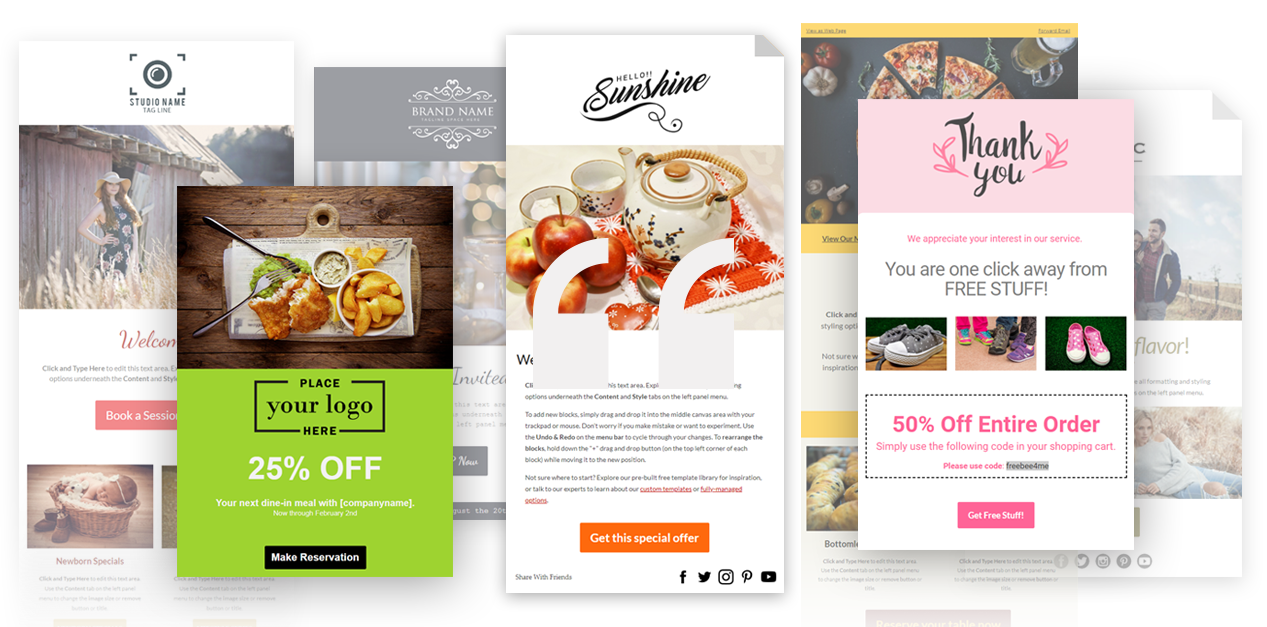 "Great pre-built themes and easy to use."

"FireDrum really makes campaigns easy to set up with the drag-and-drop interface. I'm impressed that they are nearly half the cost of Mailchimp with an equally professional system."
Christopher S.
Live Mobile & Tablet Preview
See your email update in mobile preview right as you type and enter content.
Save time by seeing all screen sizes as your build your email.
"I like the formatting they use to help you make your own personalized mailers and email campaigns. My clients have complimented me in the past with how it looks and it makes me feel good that I use such little effort to achieve such professional looking pages."

Sammy D.
Built-in Image Editing
Crop, resize, rotate and more. Edit images using our built-in editor tool.
Free Image Database
Need Images? We've got them. Quickly find the perfect image without having to leave our interface or to resize them. Rest assured all images are public domain CCO and free to use with no copyright infringement.
We also host all your images for no added fee.
"Wow....Fire Drum Marketing's new Email Studio™ is awesome! No more searching the Net for beautiful and interesting email backgrounds to copy or import. Thanks! #FireDrumMarketing"

Kimetta C.
Our Magic Wand makes Creating Emails Easier & Faster
We strive to make creating and sending emails as easy as possible. Our Magic Wand tool does just that.