FireDrum Email Studio™ - A responsive email template builder
Dare we say, you'll actually have fun building emails now!
We've taken the best aspects of drag and drop editing and combined it with unparalleled ease of use. So easy, a monkey could do it! You'll be amazed at how fast you will be able to effortlessly create emails that look great on all screen sizes. Build bulletproof mobile responsive emails in seconds. Knowledge of HTML and graphic design is not required!
Best of all, your email is actually a template that can be re-used and modified, saving even more time creating future emails.
To build emails in FireDrum Email Studio™, you simply drag and drop building blocks and images into the canvas. Without having to worry about the layout of your email, you can now concentrate on your actual message content.
What people are saying....
"
WOW - JUST WOW!! Dan gave me a tour of the new user interface, and I am very impressed! It looks good, has features we all wanted, and it will help me serve my clients' needs better."
"I can't believe the response we got on our new newsletter... " Listen to audio
"Thanks for your help, this is the best email design engine I have used!"
Getting Started Building Responsive Emails
Live Mobile & Tablet Preview
See the mobile and tablet versions of your email, as you edit it live! Mobile views have now surpassed desktop. Seeing the mobile view as you create your email ensures you don't miss out on your biggest audience. Toggle this live preview on/off by clicking the "preview" navigation option found on the top of your canvas space.
Complete Style Control
Take control of font, color and layout settings using "Global" style control. For example, you can change colors of text, buttons, titles and more, throughout your entire email with a single click! Get specific control of a single row or section of your email using "Block" level settings. Create brand awareness by styling your email to match your website and product branding - no coding required!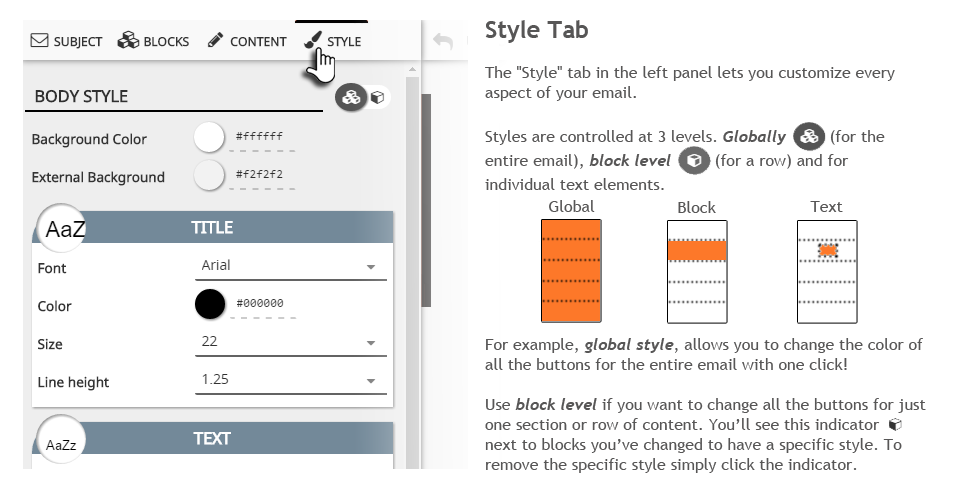 Magic Wand
Easily adjust image sizes, image position, social icon styles and more with a simple wave of a wand! By clicking the blue "magic wand" on top of various building blocks, you'll be able to effortlessly modify the elements within the sections.
The magic wand on the "Image with Text" block will switch the image and text position (from the left column to right column).
The magic wand on the "Full Width Image," "two image," "three image," "four image," and "five image" blocks with add padding space between images.
The magic wand on the "Social Share & Follow" block will change the icon style (styles include: retro, modern, circular black and white, and circular colors).
The magic wand on the "Company Logo" block will change the image size to small, medium or large.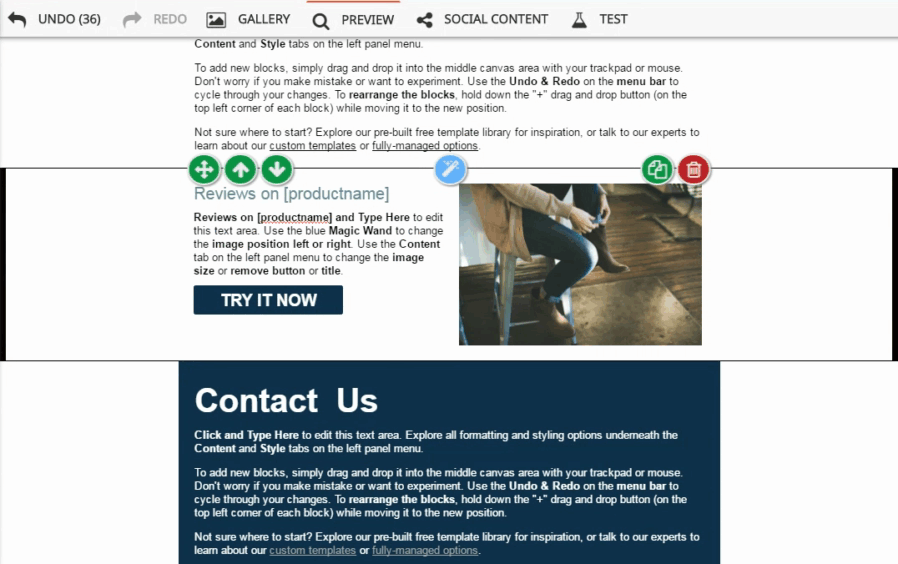 Emoji Support 
Dress up your subject line and preheader and engage your subscribers with Emojis. Emojis are a fun way to increase engagement and make your email stand out. Our built-in emoji gallery will allow you to easily search for and add your favorite emojis. You can quickly find the right Emoji by typing keywords into the search bar on top of the emoji palette.