Growing your email list is paramount to increasing your business' conversions.
Read on to learn how you can build your email list in 60 days!
According to the Direct Marketing Association, email marketing receives a 4300% return on investment (ROI) for U.S. businesses. When you view it from an objective standpoint, it isn't hard to see why email marketing is this lucrative.
Having more subscribers on your email list means you'll be reaching out to more people, which means you'll be able to convert more leads and sales for your business. But, what's unfortunate is that many businesses give up on building a mass email list because they perceive the task to be difficult and time-consuming.
Although you may be too busy running your business, building your email list doesn't have to be a laborious task. This guide will outline some practical email list building ideas you can use to improve your brand's conversions in 60 days.
23 Actionable Ways to Grow Your Email List in 60 Days
Offer Something Valuable
You can't randomly add someone to your email list and expect to receive immediate conversions. The most important thing you need to do before starting your email list is to add people who are genuinely interested in what you have to say or offer.
You should also ensure that your email list is full of people who have given you their permission to email them. Otherwise, you could establish a negative reputation as a spammer, and your email list could become counterproductive.
Sure, everyone wants to have a large email list. However, your email list should only be filled with high-quality contacts that will likely buy from you at some point. So, what are some great email list building tips that can help you gain more interested contacts?
One of the most effective ways to build a quality email list is to offer something valuable to your prospects and exchange it for their email address. Here are some amazing ideas to get you started.
#1: In exchange for an email address, offer quality education resources like webinars, whitepapers, infographics, and ebooks.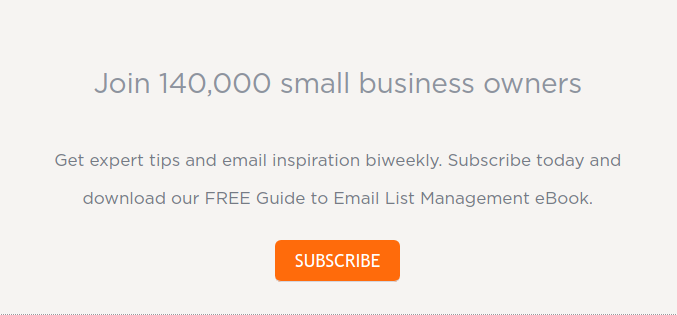 #2: Offer exclusive content that's available only to your subscribers. Creating exclusive content is a great way to make your prospects feel like they have to sign up or they'll be missing out on something special.
#3: Hold a competition and request that all participants give you their email address. However, beware of what you offer. Anyone will try to enter if you're offering a lucrative award, like an iPad. You'll have to be careful to only attract people who are really interested in your business.
#4: Host an online event, like a webinar, and include a tick box to receive exclusive content during registration. The key to this tip is to make your offer very enticing. (Ex. Click here to learn how you can increase your revenue in just 60 days!)
#5: Offer a discount or coupon to your subscribers.
Create Alluring Web Forms
Now that you understand that you'll need to make an enticing offer to your prospects to convince them to sign up, it's time to make sure that your offer won't go to waste. In order for people to sign up for your email list, you're going to have to possess an alluring and powerful web form, ideally on your site's landing page.
Web forms come in all shapes, colors, and sizes, but when it comes to offering content, there are a few things you should remember. No matter what, your web forms must:
Make your promise clear - in order to come across as transparent and professional, clearly describe the benefits to subscribing to your email list. In order to substantially decrease the chance of an opt-out, explain what's in it for them and what they can expect once they sign up.
Always provide proof - in order to inspire your prospects to give up their email address, include a customer testimonial, show off the number of subscribers you have, and provide the logos of the brands you're currently working with. Doing this will not only show that your content is legitimate, but it'll also prove that your content is valued by other people.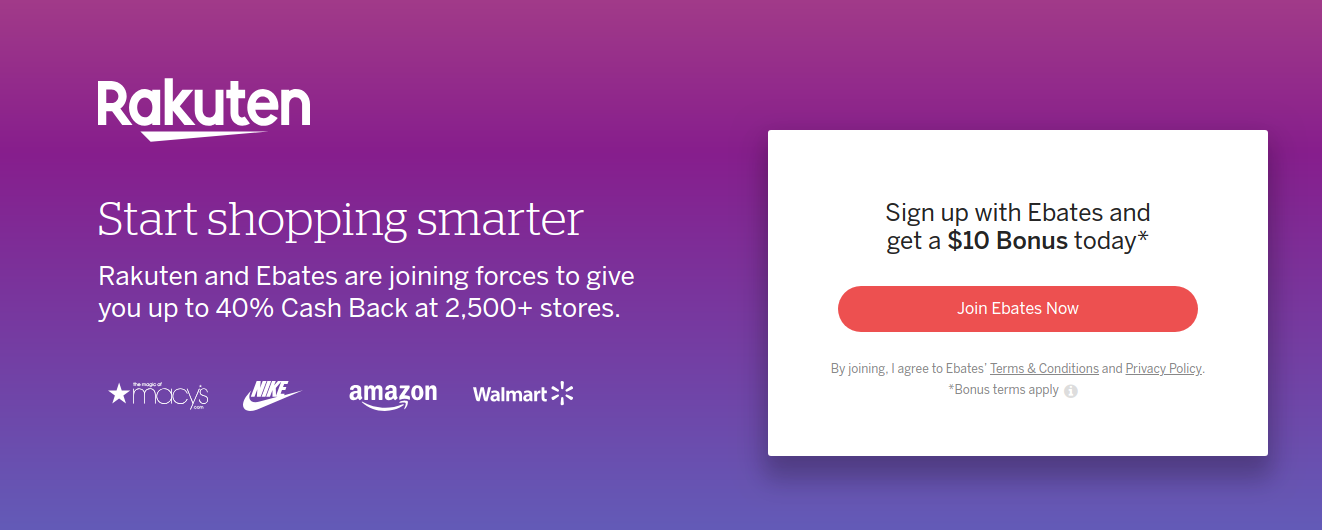 Respect Privacy - include a link to your privacy policy page to help people realize that you will respect their privacy and wishes to unsubscribe if need be.
Make It Simple for People To Subscribe
Now that your subscription form is in order, it's time to place it where your prospects can find it. Let's breakdown a few effective methods of getting this done.
#6: Add a form on your landing page. Your landing page should be the first page your prospects visit from organic search results or from your ads. Therefore, make sure you place your subscription form directly on your landing page for maximum effect. Did you know businesses that place a subscription form on their website receive a 193% more email subscribers than those who don't?
#7: Always remember to have a link to your subscription form on the 'bio' and 'about' sections of your social media profiles.
#8: Include a tick box prompting your prospects to sign up to receive your exclusive content in all of your web forms that request an email address.
#9: Include a link to your subscription form in your staff's email signatures. Considering that your company sends hundreds of emails per day, there's a good chance you can increase your signups.
Use Email List Building Tools
A substantial amount of your website's traffic is derived from your home page. If this is where all the action is happening, it's important to focus on building your email list here. This is where using email list building tools come in handy.
#10: Smart bars are beautiful additions to your website and they constantly remind your site's visitors to sign up for your email list. Add one to your site to showcase your subscription form without taking up much space.
#11: Create a popup that appears in the foreground of your site. Any time a person clicks a web page, they will see a timed popup that will encourage them to subscribe to your email list.
#12: Create an exit intent popup that shows up when someone tries to close your web page. This is a great last-ditch effort to reach prospects before they leave.
If you're really interested in using effective email list building tips like these, click here to learn more about how you can augment your email marketing campaign with FireDrum.
Make Use of Your Social Media Channels
Here's a little nugget of wisdom. Email marketing and social media can complement each other when they're both used in unison. If you particularly have a large following on social media, your email list can piggyback on this success by capturing their email addresses as well.
#13: Promote your email list on social media and ask for your followers to sign up for exclusive content and other promotions. Be careful to not do this too much, as it can annoy your followers.
#14: Try pinning a Facebook post or tweet to the top of your profile that contains a link to your subscription list. This is the first thing people will see when they visit your page.
#15: If you have a Facebook business page, include a link to your subscription list in your call-to-action (CTA).
Broaden Your Reach
One of the most effective ways of building your email list is to leverage your subscribers' networks. This way you can get in touch with people who would be otherwise out of your reach. The key to doing this is to develop tempting content that your subscribers will want to share.
Here are a couple ways you can increase your audience and leverage your content.
#16: Before you get started, encourage your subscribers to forward your emails to their friends, colleagues, and clients. To do this, make sure your emails allow your subscribers to forward them to other people.
#17: Add your social media profiles to your email to encourage your subscribers to share them on social media.
#18: Explicitly tell your subscribers to share your content. People are always looking for valuable things to share on social media to grow their own followers. Make sure that your content is one of them.
Promote Your Email List During Checkout
If someone has managed to purchase your products or services, then they're obviously interested in what you have to say, as well as other future offers and exclusive content you may have.
Promoting your email list during checkout is the perfect time to strike some interest in your prospects because you know that they will be listening. Here are some great ways to get started.
#19: Invite your customers to subscribe to your email list as soon as they make a purchase.
#20: Don't forget to tell your customers to subscribe to your email list on your transactional email. Add a link to your subscription form at the bottom of your invoices, delivery notifications, and receipts. Just check out how Warby Parker did it.
Don't Forget About Offline Opportunities
Now that we've gone through all of your online opportunities to receive more subscribers, let's break down a few ways you can convert real-world opportunities. Although e-commerce is certainly booming right now, 92% of all sales still happen offline, so you definitely don't want to miss out on these opportunities.
#21: During customer service or support calls, politely ask for emails. If someone has called you, they're already engaged and will likely be interested in what you're offering. But, that's only if you're selling your email list correctly (this is a discussion for another time).
#22: Ask people to sign up to your email list every time you're at networking events such as conferences, exhibitions, and industry events.
#23: Create a QR code that links to your email list and places it on marketing collateral like fact sheets, leaflets, and brochures. This is a great event marketing tactic if you and your team are traveling to a networking event.
Here's a Word of Advice! Do Not Take Any Shortcuts
If you're just starting to build your email list, it can be tempting to purchase an established list. Email list buying is a black-hat email marketing tactic and it can be extremely counterproductive to your plans. Here are a few reasons why we strongly recommend that you never buy an email list.
Sending an email to a purchased email list typically leads to higher bounce rates and lower open rates. What does this mean? This means that no one will click on your emails and they'll be sent straight to your recipients' spam folder.
You can damage your IP reputation and future delivery can be tarnished if you try this spam tactic.
Most email service providers prohibit users from uploading purchased email lists.
How to Clean Up Your Existing Email List
It's important to nurture your existing email list to make sure that your email marketing efforts are effective. Check out these effective email list hygiene tips to begin seeing more results.
Remember To Use Double Opt-In 
To maintain a clean list and achieve the highest deliverability rates, we recommend you initiating a double opt-in feature for your email list. Basically, this feature prompts a prospect to confirm their email address once they agree to sign up. Adding a double opt-in to your list can effectively reduce spam and improve the chances of your emails being sent and read by your desired audience.
Purge Inactive Subscribers
It's up to you to decide what constitutes an inactive subscriber. But, one thing is for sure. If you determine that some of your subscribers aren't reading your emails, then you should purge them to make your list more efficient.
Re-engage Your Audience With Email Automation
Create an automated campaign to re-engage your inactive subscribers. Reach out to your inactive subscribers in a genuine manner by sending a personal follow-up email. If you're struggling to find some ideas, check out this amazing example from Typeform.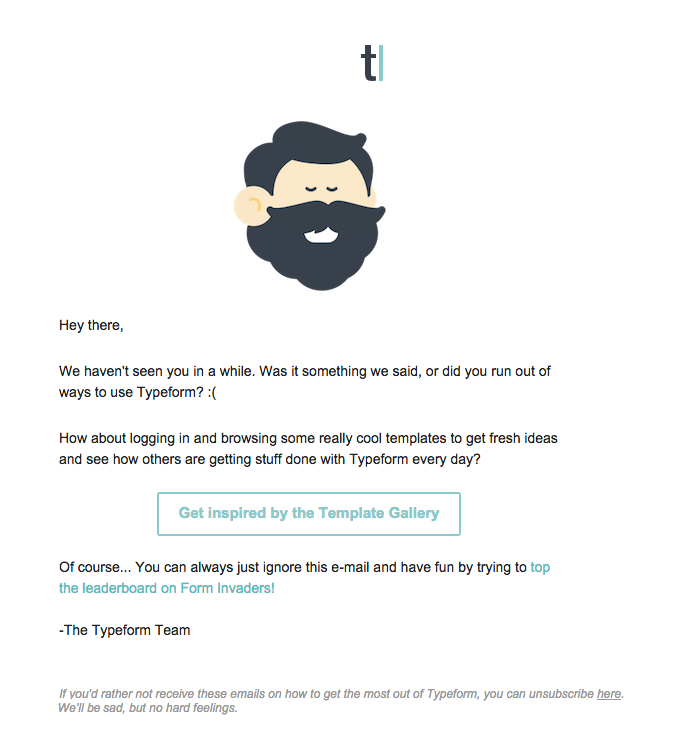 The major thing you need to realize is that your re-engagement strategy should be drastically different than your email marketing strategy. If your inactive subscriber hasn't read any of your emails, you have to try a new approach to really get their attention.
Get Started Building Your List Today!
Before you use any of the tips above, it's vital that you are always explicitly clear about how you will use other people's email addresses.
None of these tips actively endorse being sneaky and deceptive to gather email addresses, but the goal of this article is to break down all of the methods you can use to encourage people to willingly sign up for your email list.
If you're ready to start growing your email list, sign up for free with FireDrum today!
Want to learn more about how to increase your sales and nurture your leads? If so, then click here.  
Want to learn how you can pair your social media and email marketing strategies to produce GROUNDBREAKING results? If so, then click here.  
Want to receive the highest ROI from your email marketing campaign? If so, click here.