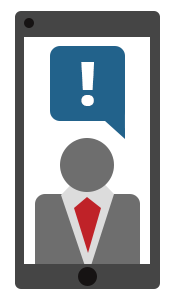 Recently, Google made a good news, bad news announcement about an update to their search algorithm due to begin rolling out on April 21st. We wanted to take the time to address some of the rumors and misinformation that we've heard swirling around. But first, let's look at the most important piece of the Google announcement.
Starting April 21, we will be expanding our use of mobile-friendliness as a ranking signal. This change will affect mobile searches in all languages worldwide and will have a significant impact in our search results.
Emphasis mine.
Let's get the bad news out of the way first. The bad news is that if your site is not responsive, or not mobile-friendly in most cases you will see a noticeable decline in mobile search traffic as your site slips down the rankings. No, your site won't be "deleted" or "hidden" on mobile. But yes, when all things are equal, you will rank lower than a mobile-friendly site.
The good news is that if your site is already mobile friendly – hurray! Pat yourself on the back and continue working on whatever you were working on before coming to read this blog. Unsure if your site is mobile-friendly? Continue reading and we'll look at how to determine if your site is prepared for April 21st.
So, what exactly is happening?
Let's be honest, what happens when you perform a search on your cellphone and end up on a website that isn't mobile-friendly? You leave, right? Or you end up pinching, squinting and trying to navigate a website that's too small to read. This results in a very frustrating user experience.
In response to this, Google is introducing mobile-friendliness as a ranking signal which will list non-mobile sites lower in search results in an effort to increase the overall user experience.
Google has always made usability and ease of access a priority in their search engine rankings, so it should come as no surprise that sites that are not optimized for mobile searches will not rank as highly when searched on mobile devices.
Your site is either mobile-friendly, or it's not
A common refrain I've heard over the last couple of weeks is, "My site is kind of mobile-friendly so I should be okay, right?"
Unfortunately, your mobile-friendliness is not ranked on a scale. Google looks at it pretty black and white – your site either is or is not mobile-friendly. Your site has to fully pass Google's set criteria to be deemed mobile-friendly.
Fortunately, Google has released an easy to use testing tool so you can see if your site meets their criteria.
Another easy way to find out if your site is on the good side of Google is to pull out your phone and perform a search for your website. Do you see the gray 'Mobile-friendly' text before your meta description? Good! No? Then I recommend referring back to Google's official tool to see exactly what needs to be fixed.
How important is mobile to you?
Don't get me wrong mobile is extremely important and I recommend every business take a mobile first approach to almost all marketing strategies. Having said that, mobiles impact isn't equal for all businesses, and the response to this update should be evaluated on an individual basis.
Does your business have the resources to dedicate to an entire mobile site overhaul? How much mobile traffic do you get? Will you see immediate and profitable results from an increase in this traffic? Are those resources (time + money) better spent on other marketing and advertising initiatives?
To make this decision you need to gather more information and make a decision that is relevant to your business.
This won't directly effect your desktop rankings
One common question I've heard is, "What about my desktop search traffic?" The good news is that this update won't directly impact desktop search rankings. However, I make that claim with caveats.
A major part of the algorithm and ultimately how highly your site ranks is the amount of engagement users have when they hit your site. Meaning, Google is tracking how long the average user stays on your site, how many pages they view, bounce rates, exit rates, and much more. Google is using this information to determine the quality and usability of your site. More page views, higher time on site, and low bounce rates signal a high quality site and results in a higher search ranking.
It's unclear if having a poor mobile experience that hurts these numbers will in turn damage your desktop search results. If Google is going to place these metrics into their respective buckets, then the mobile experience shouldn't hurt your desktop rankings. However, if they all feed into an all-encompassing set of metrics then a poor mobile experience will in fact hurt your desktop rankings, and may be already.
Wrapping Up
"Mobilegeddon," as it's been called, has brought a sense of doom-and-gloom to business owners. Before panicking over the mobile search apocalypse, business owners need to take a step back and evaluate whether urgency around the April 21st deadline is warranted based on the realities of their business.
Look at the analytics and review the traffic coming from mobile devices. Where possible, analyze what kind of revenue is attached to those visitors. Once you have this information, make an educated decision about whether you want to embark on a possibly expensive "quick fix", or if you are better off working on a longer term strategy to becoming mobile-friendly while keeping your resources where they are needed most.