The Top 7 Ways to Acquire New Emails
Acquiring email addresses and, more importantly, the new customers and clients who own these addresses can be a challenge for any business, no matter its vertical or size. Since having someone to email is a pretty important part of email marketing, we will highlight 7 of the most effective methods in acquiring new email contacts for your business. These suggestions are not ranked in order, nor are they all the methods your company could use. Instead, please use them as a guide to improve your current email address acquisition strategies.
#1. Social Media to Email — The Next Step of Engagement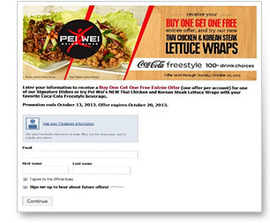 Using Facebook and other Social Media to acquire email addresses should be a primary focus for your acquisition efforts. Below is an example of how Pei-Wei uses a coupon offered on Facebook to acquire new email addresses. The promotion is hosted on their Facebook page. Consumers are encouraged to first like Pei-Wei and then are taken to a sign up form.
A key take away from this promotion is how they prompt the consumer to select if they would like future offers. This shows Pei-Wei's consideration of a user's potential interest and will lead to a clean and engaged list for future use.
#2. Sweepstakes — One Big Prize and a Whole Lot of Emails
I am from the generation that, when I hear the term sweepstakes, I see Ed McMahan approaching someone's door with a giant check. Fortunately, you do not need the TV personality or the giant check to run a successful sweepstakes. Think about a prize that would be appealing and relevant to your core client base. Promote it through social media, display advertising, and your website. Lead your sweepstakes registrants to specific landing pages. These landing pages will be able to opt consumers in, provide insight on which promotional channel is most effective at generating traffic, and lastly allow for capturing of a number of important data fields outside of just an email and name.
#3. News and Event Notifications — What's Up Doc???
If consumers are interested in your business, logically they should be visiting your site. The question then becomes how to get them to take the next step of engagement once they do visit.  Quality and relevant content will keep them exploring, but providing specials, focused news, and event notifications should lead them to opt in to your email communications.
#4. Whitepapers and Value Added Downloads — Can I Have a Sample Please???
Don't just give away valuable information, time, or content. Make sure that if you're providing value to prospective customers that you at least capture their email address. If they want the content badly enough, it should not pose much of a barrier to ask them to opt into your email list.  The type of information they request should allow for well-thought-out drip campaigns and in turn push the prospect further down the sales funnel.
#5. Capture Cards — Can I Have Your Autograph Please???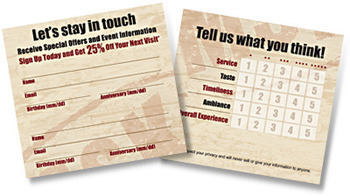 In-store cards can be an extremely productive outlet for retailers to capture information about their customers.
Having customers fill out their information in the billfold, at the counter, or taken by an employee at the point of sale can lead to significant list expansion as well as important feedback about your product and service.
#6. Loyalty Programs — The Death of the Punch Card
The use of loyalty programs for businesses has been growing over the last decade. I remember the first iterations of these programs where you were given a punch card, and each visit got you closer to that free coffee or car wash. While these programs still linger, the modern organization now uses much more complex versions of the punch card through marketing companies that specialize in this niche. These programs can be both effective and expensive, so be wary when deciding on a vendor for this service. Most importantly, make sure your potential vendor allows you easy access to the email and purchase data that is generated from these programs.
#7. Networking and Guerilla Marketing — Get Out There and Shake Some Hands
No matter how much our communication has shifted to the digital landscape, I think no other form is as effective as interpersonal communication. Company events, trade shows, festivals, etc., can all be effective venues for promoting your business and capturing email addresses from potential or current customers. Arm your employees with a tablet or smart phone, create a landing page with an API into your email system, and Presto… New email contacts for you to communicate with.
Questions? Contact us today for a free consultation.