With the holiday season upon us, now is a great time to prepare for your holiday email marketing campaigns. During the 2013 29-day holiday season, eCommerce sales topped $20.6 billion. Consumers are avoiding the long lines and spending more time browsing and buying from the comfort of their home. With a successful holiday email marketing strategy, you too can have a piece of this pie.
Since we've already discussed why keeping a clean list plays an important role in ensuring email deliverability this season and we've talked about how to write effective subject lines, today I want to focus on exactly what days to send during the 2014 holiday season.
November
The First Big Send Day
Monday, November 10th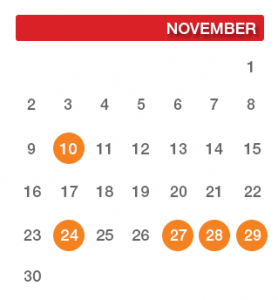 I've selected this day as a date early in the month as a way to reengage your audience prior to the increased frequency on the major mailing days. Not only will this email serve as a reminder to your consumers, but sending an email a couple weeks ahead of the holiday rush will provide you with a baseline for what kind of numbers to expect with your holiday emails.
Cyber Week Starts
Monday, November 24th
This signals the start of Cyber Week and the beginning of the major marketing season. Cyber Week is a great opportunity to provide small daily discounts, flash sales, and freebies as a lead up to the larger Cyber Monday.
Thanksgiving
Thursday, November 27th
Thanksgiving is the time to send your consumers, shoppers, and clients a thank you and a token of your appreciation. A simple thank you goes a long way in building a relationship and increasing the chances of getting your emails opened on…
Black Friday
Friday, November 28th
Black Friday spending topped $1.2 Billion in 2013. While most Black Friday shoppers are chasing the next door buster they're often standing in long lines. Trying to send emails at key times where you think your consumer will be standing in line with nothing to do but browse on their mobile device.
December
Cyber Monday
Monday, December 1st
Cyber Monday jumped to $1.73 billion in spending during 2013 making it the heaviest U.S. online spending day in history. Pull out all the guns on Cyber Monday – the best subject line, the best copy, the best deal and the highest converting email you come up with. With over 200 billion emails sent on this day it's going to take something exceptional to stand out. Also consider sending multiple emails. In 2013, 48% of retailers sent one email, 39% sent two, and 14% sent three or more!
Hanukkah Begins
Tuesday, December 16th
An often overlooked holiday by most retailers, which makes it the perfect opportunity to be at the forefront of your consumers inbox. Hanukkah tradition calls for 8-days of Christmas with a gift everyday. Don't email your list everyday about Hanukkah deals, but consider driving traffic to an additional opt-in page to receive an e-mail everyday for 8-days for those shoppers that are really engaged with your products.
Last Day for Ground Shipping
Thursday, December 18th
This is usually the last day Fed-Ex and UPS will guarantee delivery for ground shipping, which makes it a great day to send an email with an incentive to order on this day. Consider offering free ground shipping up to a certain shipping weight.
Last Day for Rush Shipping
Tuesday, December 23rd
Now you're really pushing it. If you haven't closed a sale by this point it might be your final opportunity. It's also the last chance for rush delivery from Fed-Ex and UPS. If you're a business selling physical products, this is a great day to send one final blast to move some of your remaining holiday stock or you might be stuck with it for another year.
Christmas Day
Thursday, December 25th
Similar to Thanksgiving Day, Christmas isn't necessarily a day to push a sale. For most people the shopping rush is over. However, it's a good day to again send some message of gratitude and thanks to your consumers and wish them a Merry Christmas.
New Year's Eve
Wednesday, December 31st
New Year's Eve is a time for celebration. Celebrate the new year, celebrate your successes of last year and thank your audience for making your holiday email marketing campaign successful!
Conclusion
Email marketing still has the highest ROI of any other form of online marketing. In fact, it's not even close. For every $1 spent, $44.25 is the average return on investment for email marketing. With increased eCommerce spending over the holiday season and the single heaviest U.S. online spending day of the year, can you afford to not have a holiday email marketing strategy?
What does your company do to prepare for the holiday email rush? Let us know on Facebook or Twitter!