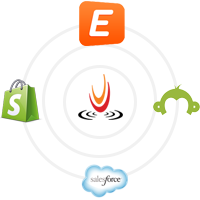 With all of the different cloud based platforms used in the workplace these days, having the option to seamlessly integrate them would make anyone's life much easier. With all of the inquiries we've received about how to connect FireDrum with Customer Relationship Management (CRM) software such as Salesforce, Sugar and standalone applications such as PayPal, Eventbrite and Shopify, we can now help automate your workflow by easily integrating our platform with your existing applications through our open API.
There are a number of important benefits that come with integrating your email marketing platform with your CRM.

1. Better Visibility and a Quicker Response Time
If your sales team uses a CRM such as Sugar and your marketing team uses FireDrum, both departments will be able to seamlessly share data from both applications. This allows for the marketing team to quickly get results or reports from their email campaigns and if a "hot lead" comes through from one of the campaigns, an automated alert can let the sales team know and they can respond to it in real-time.
2. More Effective and Collaborative Teamwork
When you unite your email marketing and standalone applications together, you open the doors to allow your marketing and sales departments to work more effectively together, because they have access to shared information. The sales team will be in-the-loop as to what campaigns the marketing team is running and marketing will be able to pass off any leads for follow-up.
Any of the important up-to-date information that sales puts into their CRM, marketing will be able to use to send out targeted and relevant email campaigns to the right audience.
3. Say Goodbye to Duplicate Data Entry and Errors
If your company manages multiple business applications, where the data has been manually transferred from one to the next, chances are there is going to be duplicate data entry which causes errors and dilutes reporting capabilities. Therefore, when you integrate your email platform and applications together, you help improve the accuracy of data between the two applications and also free up your time from tedious data entry.
Ready to get started?
If your company is looking for ways to streamline and speed up your overall workflow, integrating your email marketing system with your CRM and other applications will allow the entire company to communicate more effectively with accurate information, resulting in immediate visibility and improved productivity.
If your company would benefit for a more efficient workflow, call or email one of our marketing experts today!