More Insights into Pay-Per-Click and Answers to Common Questions
In continuation of our last post, we'd like to answer more commonly asked PPC questions. PPC, unfortunately, cannot be mastered in a day, but becoming a pay-per-click leader can be accomplished with time. Use our tools for your SEO research and implement out tips for more lead conversions.
Want more guidance on PPC strategy? Or rather have us handle your campaigns?  Just contact our pay-per-click experts, today. We can handle everything from campaign design to complete budget and keyword management.
How do I get ahead of my competitors?
The easiest way to get ahead of your competitors is to raise your daily budget,  but the most effective way to get ahead of your competitors is to carefully monitor and maintain your PPC campaigns. Are you regularly cleaning out ineffective keywords and campaigns? Optimizing your search engine's advertisement features? One commonly overlooked feature of online search engine ads are remarketing campaigns.

What is a remarketing campaign?
At one point or another, we've all experienced a remarketing campaign. A remarketing campaign is triggered based on user's actions, allowing business owners to connect with their users outside of their website. Remarketing ads are only shown to individuals who have visited that website before. Whether you like them or not, they're a great way to build brand awareness.
Managing your remarketing campaigns
Remarketing campaigns are easy to set up but can be tricky to maintain. Be sure to monitor your keyword groups while your campaign runs and keep an eye on your click through rates and conversions. When you design your remarketing display ads, make sure your ad sizes are up to exact specifications.
Should I place a bid on my company's name?
Well, that depends. Are others bidding on your company's name? When you search for your business (let's take FireDrum for example), do you see any paid ads that aren't from your company?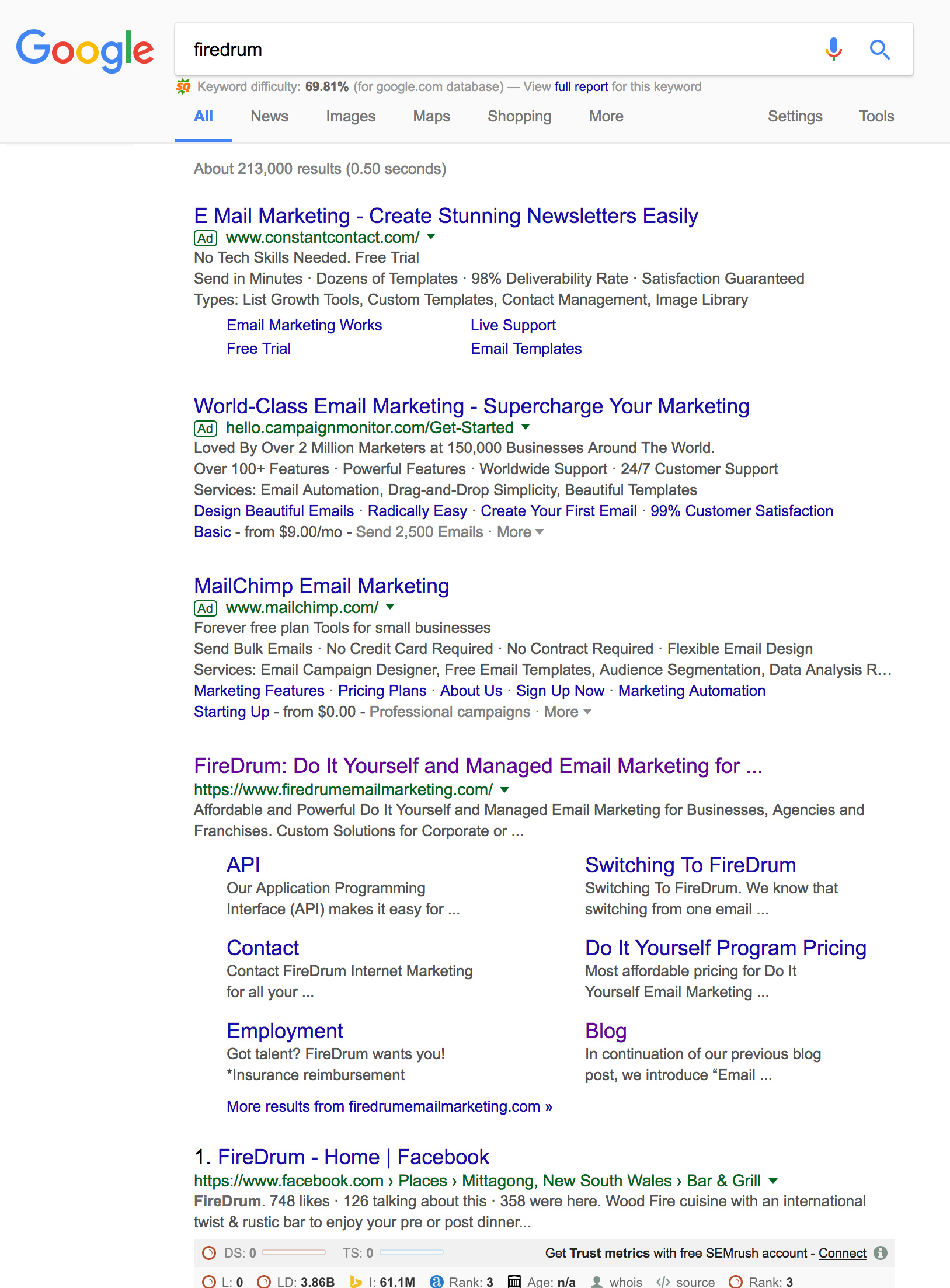 When we search "firedrum" in Google, Constant Contact's, Campaign Monitor's, and MailChimp's Google Ad appears. This means that these other companies are bidding for our brand name (aka, trying to acquire business from people who are searching for us directly). If people are bidding on your brand name, it would be beneficial to bid on your name as well. The CPC, or cost-per-click, for your brand name should be relatively low. By bidding on your own name, you can ensure that the message being displayed is consistent and correct. Plus, you know that the people clicking on your ad when searching your name are specifically targeted. It's a great way to measure website performance results and monitor any changes in your target market's interests.
Why is my CPC going up?
Your cost-per-click may be increasing because your competition has decided to place bids on the same keywords you use, or the quality score of your keyword has gone down. Just like any other type of advertisement, the competition is fierce. If something is working well for you, your competitors will try it too.
Keyword Strategy
To stay on top of your competition, make sure you're cleaning out your keyword list every few weeks. What are people searching? Can you add any of those keywords into your campaign? What has proven to be ineffective? What can you remove? By consistently cleaning out your keyword list, you'll lower your average CPC and your investment will be going to quality campaigns and quality leads.
Quality Score
First, what is quality score? Quality score is google's assessment of your keyword relevance and landing page experience for each ad. If you have a high-quality score like 7/10, Google is letting you know that you have a high click through rate, your keyword is relevant, your landing page is user-friendly, and your ad message is pertinent. If your quality score is low, you need to re-evaluate your keyword strategy and conduct more in-depth research.
Well, it's up to you now, marketers. Use our tools and tips to grow your PPC strategy, but be sure to regularly maintain your campaigns and clean your keyword lists.
---
Want more PPC and SEO tips? Subscribe to our blog or contact the experts at FireDrum Email Marketing directly at experts@firedum.com.