Version 3.3 is finally here and FireDrum is happy to introduce the new Interactive Reports! You will notice we have redesigned your Members and Reports dashboard with clickable graphs to instantly provide the information that's most important with the ability to interact and find all your data with ease.
Members Dashboard

The updated Members by Status section provides you with an overview on your contacts based on status and is depicted as a pie chart. Slices represent figures ranging from the type of member enrollment to the way contacts are deactivated by your list. This is perfect to use as a birds-eye view of member subscription health. By hovering over each slice, you are prompted with a pop up to click on the chart and drill down to view the contacts that make up the slice. From this module, you can also print or download the chart as an image (PNG, JPG, PDF, SVG).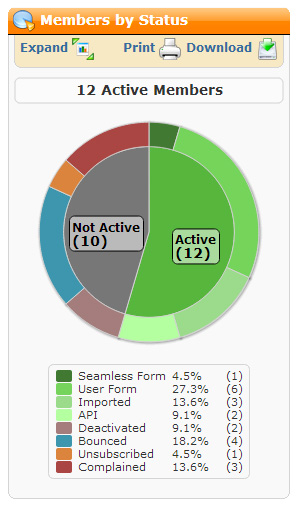 The second update on the Members dashboard is the Member Trends module. This chart provides you with information on member trends. You can toggle the visibility of each data group by clicking within the legend. The line chart for your active contacts displays the growth of your contacts. The bars represent the total for each data group during the specified time period. You can use the date picker to select the date range for the displayed member trends.  The zoom feature allows you to choose to view the chart in increments from 1 week to the lifetime of your account.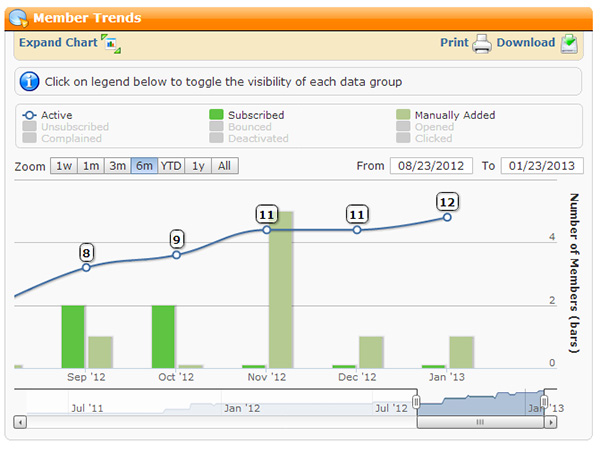 Reports Dashboard

The reports dashboard has been completely revamped and is now easier to view a quick snapshot of how well your campaign has been performing. The updated Last Campaign Sent module highlights the number of recipients sent, the number of people who opened your message, the number of clicks and the number of bounced emails. By expanding the report, you get a more detailed view of the last campaign sent as well as an interactive chart that displays the unique opens, clicks, bounces and complaints. By clicking on each legend item, you can toggle the data group on or off similar to the Member Trends report found on the Members dashboard. You also have the ability to select the date range and the zoom feature.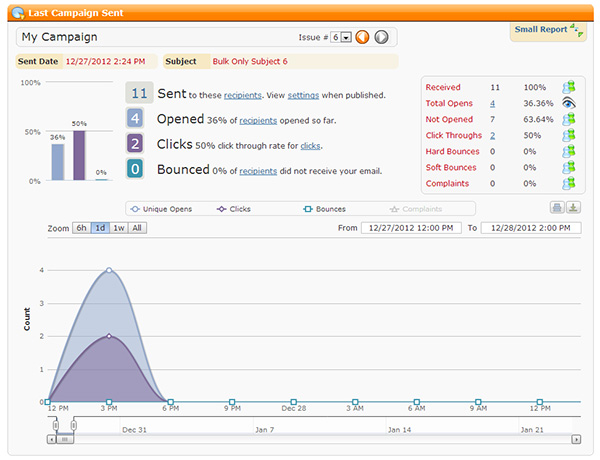 In addition to adding Interactive Reports we have also added other new features including the Inbox Preview Assistant! To learn more, click here.