Where to Find Royalty Free, High Quality Images for your Email Campaigns
When constructing your email campaigns, it's essential that you stick to a professional, easy- to-follow layout. Loading your emails with blurry photos, walls of text and no call-to-actions won't encourage your subscribers to purchase anything from you. In fact, they probably won't be encouraged to open another email from you. We recommend creating a layout that's consistent to your website (simplified, of course), and catering to the visual interests of your audience. Avoid the long, monotonous paragraphs and focus on the imagery and branding of your campaign.
One issue that our email marketers continue to run into is finding the "perfect" image. Hiring a commercial photographer to take company photos is always desired, but not always affordable. Although smart phones provide decent photos, they may not capture the look or professionalism you're looking for. Not to mention, many of the images "iPhone" captures may become skewed when switching from device to device.

Lucky for us, there is a cost effective solution that gives us commercial grade photos, for FREE. We want your email campaigns to look the best they can… so take advantage of the tools that are available!

Free Stock Photo Websites
There are many online directories of high quality photos, completely royalty free (allowing you to use these photos for commercial and personal projects). When combing through these directories, you should be pay attention the orientation, colors, abstract theme or specific message, and size of each image. Sure, photos can always be cropped and saved as a lower file size, but will you image look the same once it's cropped?
FireDrum's favorite stock photo sites: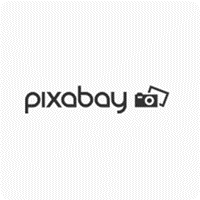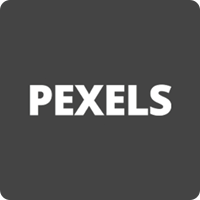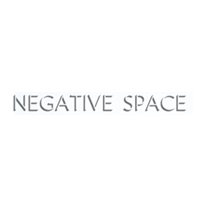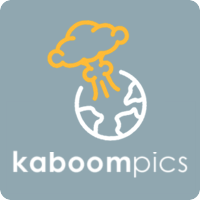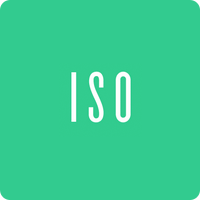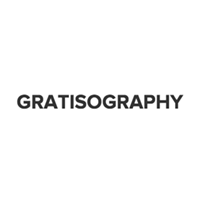 Google Usage Tools
Can't I just search for an image on Google? No, no, no! Email marketers, you can get in major trouble if decided to use an unlicensed, copyrighted image found online. Although there are billions of graphic files online, it does not mean they are all free and open for public use. Do not be fooled. By using an unlicensed image, you are infringing the copyright law. If the owner of the image decided to pursue legal action, you are looking at a fine between $700 and $150,000 dollars. Yikes! A simple tool to avoid these possible infringements is Google's "Usage Right" filter.
Let's imagine that we're creating an email newsletter for our animal supply store. I want some cute dogs to add to our header image, so I open https://www.images.google.com and start searching. Great results pop up! Before moving any further, however, I am going to click the "tools" button found on the bottom-right corner of my search bar.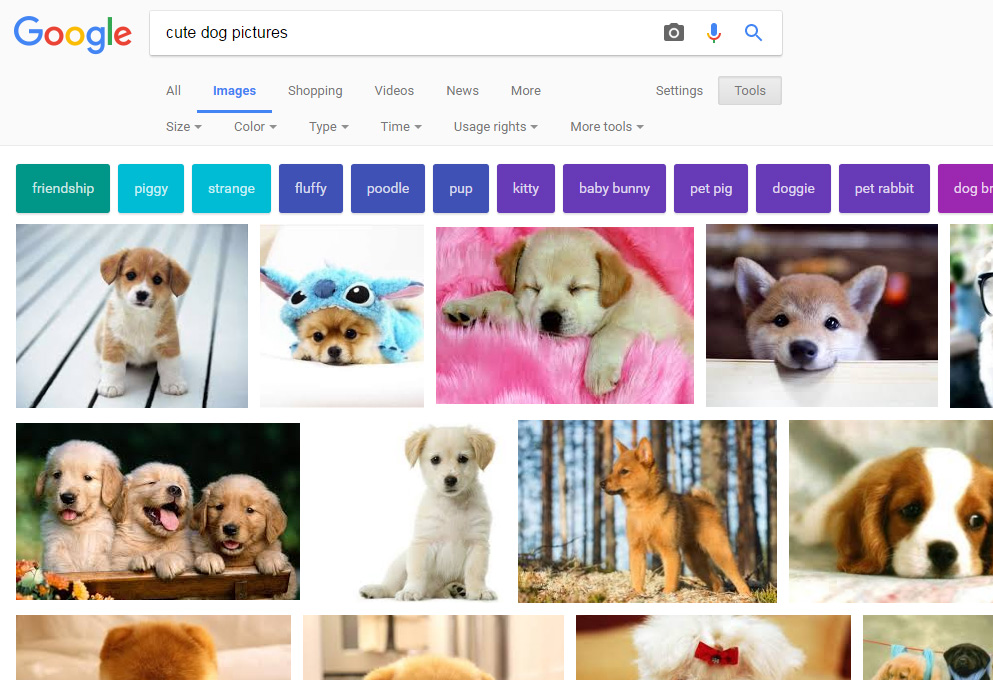 Pushing the "tools" button now opens another panel of options. Let's alter our search using Google's filter tools to find an image that I can use legally. I'm going to find the navigation option labeled "Usage rights" and click it.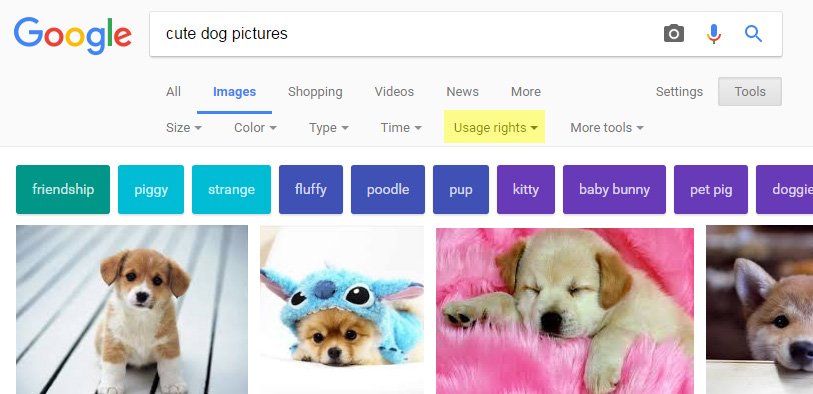 Clicking the "Usage rights" option reveals a list of drop-down items. I am going to select "Labeled for reuse with modification." This way, if I decide to add text or my logo to the image, I won't be infringing any copyright laws.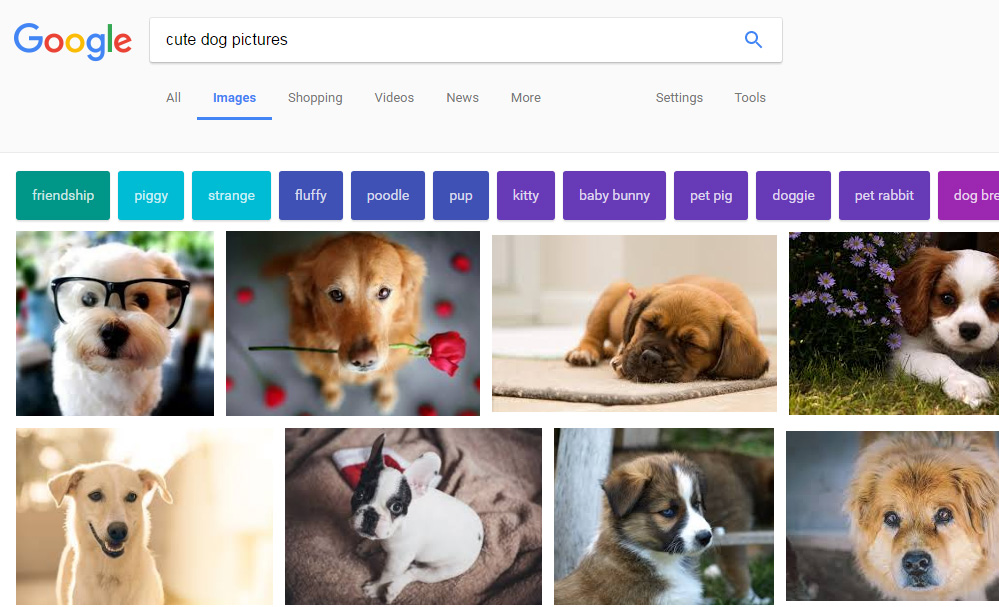 Other Free Images and Where to Look
Depending on your company and the campaign you're currently working on, you may not be looking for photographs. Websites for free "flat graphics," or minimalistic designs created in various design programs, are available as well. The graphics you download from these sites are typically editable in design programs (such as Adobe Illustrator, Inkscape, etc), if you're looking to customize colors and overall layout. When looking through these sites, you must be wary of the use rights and copyright status of each image.
FireDrum's favorite vector sites:




Adding Images to Email Newsletters
In a previous blog post of ours (Email Marketing: What Image Type Should I Upload), we discussed image file types for outgoing campaigns. To summarize, we discovered that JPEG files were best for saving photographs (despite the lossy compression), PNG files were best for vectors and other flat graphics, and GIF files were best for animated media types. This is important to know if you're downloading free stock photos and re-saving them at a smaller size.
If you have multiple images in your campaign – especially images with text – it's vital that you test mobile and tablet previews before launching. While our editor is responsive (mobile adaptive), your images may appear differently when you're switching between devices. Some things to remember when adding images:
If you add text to your image, it will scale down with the image. (Will your subscribers be able to read that text on their phone?)
Large header images will look even larger on your phone. (When people are first opening your email, will they see more than just the picture?
More images are better, but subscribers might get bored of seeing just images. (Is your campaign an even ratio of images and text?)
Full width images will look blurry if not saved to the right dimensions. (Are your full-width images saved to 590px? FireDrum's drag and drop templates will automatically resize to your images height, but not width).
Let's re-visit the email we were creating earlier for the animal supply store, optimizing the free stock photos and the Google usage tools we have available.
Below is FireDrum's drag and drop email builder preview. While you're creating your campaigns, you will see the same live mobile preview on the right of this screen.

View Desktop Version
View Mobile Version
Now that you've evaluated both the mobile and desktop preview, do you feel confident in adding pictures to your next campaign? Everything in that example was free stock found online (except for the header text). We tried our best to stick to a particular color theme, make our template easy-to-follow and professional looking. How do you think we did?
Knowing these free stock photo sources and filtering tools, there's no reason to why your emails aren't full of high quality images. Take a peek at the current email layout trends in our free template library, and start designing, today!
---
Want to test how your images look on different web browsers and mobile views? Create your first campaign and try out our Inbox Preview Assistant.