Include High-Quality Stock Images for Free in Your FireDrum Newsletters
Boost your engagement rates and improve the design quality of your email newsletters with free Pixabay stock photos. Our latest integration allows you to search and download free stock images into your account instantly. These high-quality photos are 100% free and legal to use for commercial purposes (available under Creative Commons CC0). Ready to add high-quality images to your newsletter? Get started with FireDrum, today!


How to Search Free Stock Photos
It's easy! Incorporate thousands of professional, high-resolution photos in your newsletters with a few clicks. Once you're in FireDrum Email Studio, add an image block and navigate to the "gallery" option in the top bar. The left panel that opens up will feature your existing image library and an option to search free images. Click "need free images" to start your stock photo search.




After pushing "need free images," a new box will appear over your newsletter. This box allows you to search, sort, and filter images according to your specifications. Keep in mind that all images will automatically resize to fit your email newsletter (590px wide). Well… Let's start searching! For demo purposes, let's pretend we're creating an email blast for our flower shop. We're going to search for images relating to our newsletter "Flowers for Prom." For a broad search, I might type in "flowers," but we want to be more specific. Instead of a broad term, I'm going to type "flowers prom" and filter the search to only show photos.



Once I push search, a variety of photos will appear. If my search is still too broad, I could keep applying filters until I find exactly what I'm looking for. Note, specific searches like "In and Out Burger" might not give you any results. Try to be generic, but optimize our these search features.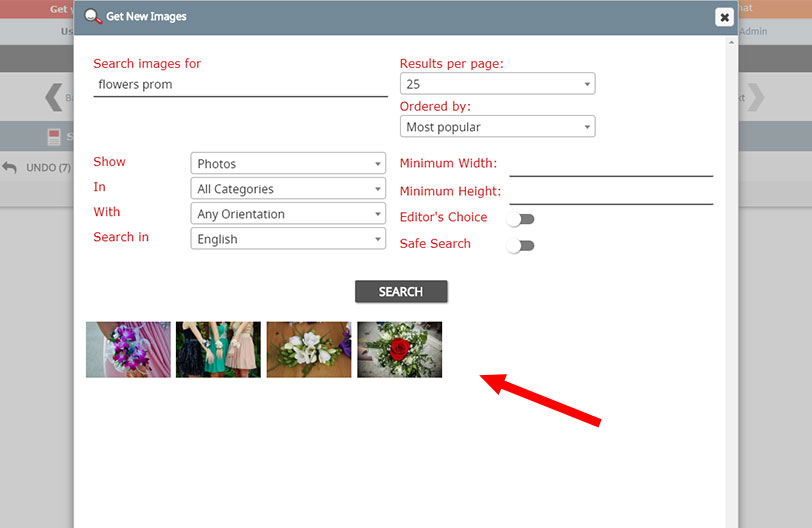 Let's say we want the first two photos from the search for our email newsletter. Simply click on the image thumbnail to save it to your library. Give it a minute or two to fully download. You can exit out of the screen while waiting.




Great! Now that our prom flower photos are downloaded, we can get back to editing the email. Your free stock photos should automatically appear in your gallery/library folder. If you're not seeing them, you might want to exit out of the panel and re-open the "gallery" option in the top bar. (Some computers just need a little refresh.)




Like any other photo in your library, simply drag and drop it into your image blocks to add it to your campaign. Easy, right? There are no limits or restrictions to how many photos you download.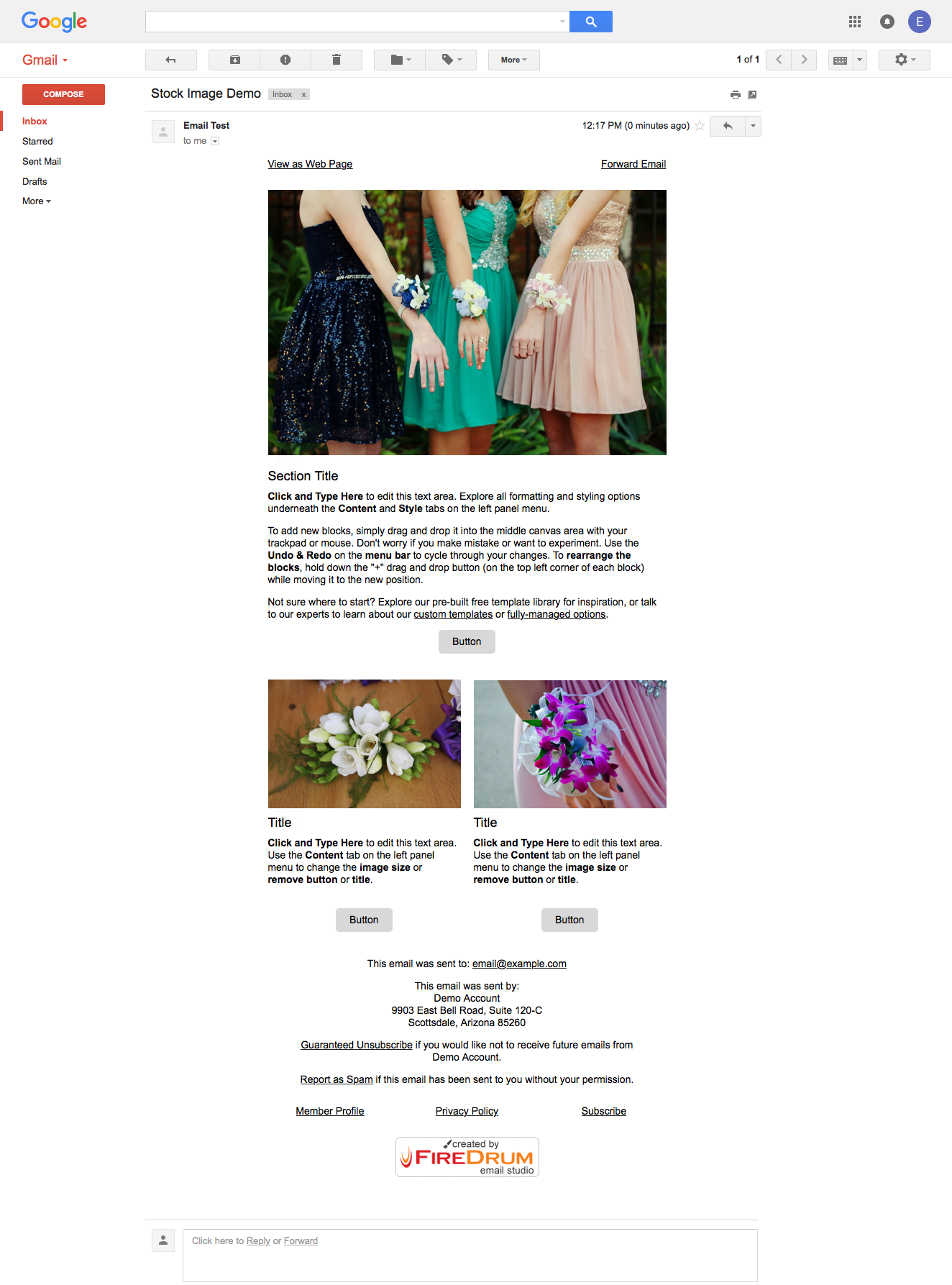 Where to Use Free Stock Photos
Implement and optimize Pixabay's free stock images in your email's header, footer, and body area. The purpose of stock photos is 1) to maximize the visual appeal of your email campaigns and 2) to break up long walls of text throughout your newsletter. Stock photos should not replace the image of your actual product or contacts of your team. Instead, they should be used to enhance the topic of your message. For example, adding a high-quality photo of the American flag might be a nice addition to your President's or Memorial Day's email.
Email Feature Details
Pixabay's entire image library is full of creative commons CC0. Meaning, all images are free and available for commercial and personal use.
Once a free stock image is downloaded into your library, it functions like any other photo you may have added. Simply drag the images into your editor to add them to your campaign. Want to save it as a favorite? Hover over the image in your image gallery and click the "star" in the bottom right corner to add as a favorite. A star that's filled in means that it was marked as a favorite, while the outlined star means it's not saved to your favorites library.
Photos downloaded will automatically be resized to fit our editor's email width (590px). Image resizing should not affect the quality or clarity of each stock photo.
Stock images cannot be downloaded directly to your computer from step two., To download photos to your device, visit www.pixabay.com or navigate to campaigns > image and file library. Right click the photo you'd like to save to your computer and push "download."
Image search is only accessible by pushing "need free images" under the gallery option in the top bar.
Understanding Creative Commons CC0 & FAQ's
What does CCO mean?
Textbook definition: CC0 images have no copyright, patent, trademarks, or publicity and privacy rights associated with the defined image. Unless the author expresses otherwise, the image is free to use for commercial and personal purposes.
What rights do I have with each image?
You can download, copy, share, distribute, post, and publish Pixabay's images anywhere on the web and your own personal devices.
How do I avoid explicit images?
In Pixabay and FireDrum Email Studio, you can turn on/off "safesearch." We recommend always turning on safesearch to avoid inappropriate and/or explicit images. Keep in mind that your email will not be sent and your account might be suspended if you include inappropriate images.
---
Have you seen all of FireDrum Email Marketing software's features? Explore our robust tools and features and get started today!