Jump Start Your 2013
Greetings,
Just as quickly as summer comes to an end for our school-age children, fall reminds us that a new year is just around the corner. For many businesses and entrepreneurs, this means setting out to prepare budgets and projections for the coming fiscal year.
Even if you don't create expansive 5-year forecasts for your business, you should at the very least create a road map of where you'd like to be by year's end and consider strategies for getting there. The planning process can do wonders to improve motivation, increase communication and create a general sense of togetherness amongst your team.
To read more on our favorite email marketing strategies and tactics, please go here.
Fall Promotion – $50 Credit
Sign up for a new Email Marketing account online between now and October 31st and get a $50 credit with promo code: FALL12
Sign up here.
Already using FireDrum's Email Marketing services? Upgrade today and receive a $50 credit. After you upgrade, call us at 480-699-1524 and claim your credit!
Offer expires 10/31/12
Tips for creating emails that work
Newsletters are more complicated to create than a single-message email. Does your business do both, or neither? Send a newsletter once-a-month but add a single message email with a promotional offer to your marketing calendar in the opposite part of the month.
• Personalize your emails wherever possible. Address people by name. Be sure your clients and prospects are properly categorized so you don't inadvertently send a new-client promotion to a client you've been serving for 5 years.
• Design emails that work well across all viewing platforms. You don't want to lose a potential lead because your message didn't display properly. Use imagery. Remember that people barely read anymore; engage with illustration.
• Make your emails shareable across social networks. Allowing your recipients to share your message or promotion with other prospects only improves your chances of success.

• Be consistent. Create a schedule for delivering your messages and stick to it. You want to build a relationship with your recipient and what better way to start building their trust than by being timely.
As with any facet of your business, developing a marketing strategy and budget requires multiple outlooks: a glimpse into your company's past, understanding of its present position and vision of the future. FireDrum would like to help you jumpstart your 2013 marketing plan with a complimentary one-hour strategy session. During this no-obligation consultation, we'll review your 2012 email marketing campaigns and discuss strategies to improve your results in 2013.
If you're interested in working one-on-one with our email marketing specialists, please call 877.347.3376 or email us at info@firedrum.com. You've made the right decision by engaging your clients in email marketing; why not take advantage of this complimentary consultation? It's no risk with a great upside for reward!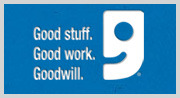 Goodwill of Central Arizona operates over 50 retail stores and stand-alone donation centers throughout central Arizona, accepting donations of housewares, clothing, furniture, electronics, toys, accessories, and vehicles from over one million donors each year. Ninety cents of every dollar goes toward their mission services to provide job training and employee placement programs, putting people in our community to work.
Go here to sign up for their monthly 20% off coupon.