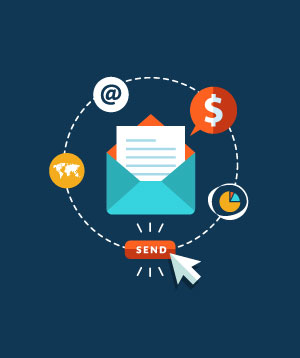 Effective Marketing Strategies to Increase Email Engagement
Email is still king when it comes to online marketing. It's true that email is an old practice in the world of digital marketing – it's nothing new or exciting. Although considered a worn-out method, email messages are still your customer's favorite way of communication – your bottom line will prove it! Not only that, but it's the most cost effective mode of communication for marketers.
Numerous studies reveal that consumers prefer email over all other contact methods. For marketers, their favoritism is evident in the impressive ROI (Return on Investment), they receive. Logically, if customers are favoring email communication and emails are generating more business, then marketers should do everything they can to arrive in their customers' inboxes. There are multiple factors that you'll need to consider when creating an effective email marketing campaign that promotes your brand completely.

Two proven, effective ways to skyrocket your email marketing results include targeting your most engaged list subscribers and culling inactive subscribers.
After all, quality trumps quantity. This is perhaps the best marketing plan for jump starting your email engagement.
Yes, it's scary to cut off a potential customer from your list. However, the "dead beats" on your list could be killing your ROI. Since email providers continuously look at engagement metrics to guide filtering decisions, you can't afford to have an excessive number of your emails routing to spam and junk mail folders.
Not only will inactive subscribers miss your emails, but active ones will too!  To protect your messages from ending up in the spam box, we offer powerful list "scrubbing" and spam-trap-checker services.
Many email marketers have had impressive results with this method of email list management. Suppressing inactive subscribers and applying engagement filters can drastically improve deliverability, and can even improve inbox placement overnight. Of course may not show immediately, but there's great value in getting rid of the inactive subscribers who are dragging your list down.
On the flip side, we recognize that list size is important and perhaps this isn't the most suitable marketing plan to implement for the long run. However, you should recognize that after you're regularly reaching customer's inboxes, you can focus on engaging those inactive subscribers with a re-engagement campaign. Instead of randomly suppressing our contacts, implement a strategy based on your domains and list segments.
Another aspect of having developing the best marketing strategy is frequency.
You must strike a balance between sending too often and not sending enough.
Sending too often can drive your customers to the unsubscribe link, or even worse, they'll complain about you. Sending emails intermittently, a subscriber can easily forget about you and fail to notice your message in their inbox. The ideal balance of frequency means that you can send less emails while getting the maximum engagement result.
Once you've cleaned up and segmented your list, using triggered emails is another effective way to increase the effectiveness of your list. Abandoned shopping carts, thank you pages and online order messages are all ways that could trigger an email to a subscriber. For a triggered re-engagement campaign, you can create an automated email to send to inactive subscribers. For the best results, we recommend creating a list of contacts that haven't interacted with any of your communications for the past six months.
Lastly, to increase ROI, marketers should be aware of the risks are involved while growing their lists. These risks include abandoned, misspelled or fake email addresses that will lead to bounce backs, spam traps and high rates of unopened emails. These can negatively impact your ROI, and even get your messages filtered by your inbox provider.
Collecting email addresses responsibly and organically is the best way to guard yourself against these risks. 
And for goodness sake, avoid buying emails at all costs! It's unlikely to get a positive response from someone who never agreed to receive promotional message from your brand.
We're right on the heels of the holiday season, which means it's now more important than ever to get into your subscribers' inboxes and boost your email ROI. Cleaning up your subscribers list and sending valuable messages to your most active subscribers is the best place to start, followed by a solid plan to engage inactive subscribers. Remember, email is still king! Take advantage of this low cost, effective form of marketing. Just make sure you're setting up the right precautions so customers receive and positively respond to your messages.
---
Ready to start creating your first campaign? Utilize our powerful email marketing software and sign up free, today!