Comparing Different Image Types for Email Campaigns (PNG, JPEG and GIF)
It's important to examine the benefits and disadvantages of each image type before uploading it into your campaign.  After all, each file type generates a different level of quality, compression and file size once you save it. Not to mention, certain ESP's (Gmail, Yahoo, Outlook, etc.), may not support certain image formats. Frustrating, we know. Just like you, we want to make sure your subscribers are receiving your message in the clearest way possible. Read though our comparison list and decide what type of image is best for your campaigns. Want to see how your images look in different browsers before sending it? No problem. Our inbox preview assistant tool renders over 50 different previews of your email in various web and mobile views.

Need-to-Know Terminology:
Lossy Compression: Some original data in your image file will be lost once the image is compressed (affecting the image quality). Most users will not detect the lost information.
Lossless Compression: Every bit of image data that was in the original file remains. Meaning, if you decide to un-compress a previously compressed file, the original image resolution and size will be accessible
The Good, the Bad (and the Ugly)
PNGs
Portable Network Graphics, or PNGs, come in two formats: PNG-8 and PNG-24. Both offer a large range of color depth, automatic display corrections and transparency support.  With these PNG capabilities, we're able to keep the transparency behind our logo below. In the FireDrum email editor, we can change the colored background behind our image.
The Good
Lossless compression (no lost data)
Transparency options
Supportive for Logos
The Bad
No animation ability
Large images = large files
Not all browsers support PNGs
JPEGs
Joint Photographic Experts Groups, or JPEGs, are the most common file type for photographs and other colorful images. Compared to PNGs, JPEGs offer an infinite range of color depth (over 16 million colors are allotted in JPEGs), making a more vivid experience for viewers. The biggest issue with JPEGs is their lossy compression tendencies. Although the image may look great on screen, you are losing data and overall image quality the further you deviate from the original file.
The Good
 16 million colors (24-bit of memory/pixel)
Designed for photographs
Smaller images = smaller files
The Bad
Lossy compression (lost data)
No animation ability
No transparency options
Text can become indistinguishable if compressed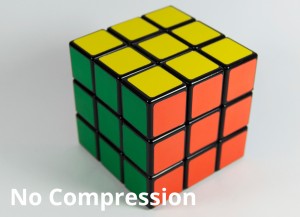 GIFs
Graphics Interchange Format, of GIFs, offer a large range of color depth, transparency support and animation support for simple illustrations. GIFs are becoming more and more popular in email marketing, but tend to slow down the email loading time because of the huge file size.
The Good
 Lossless compression (no lost data)
Transparency options
Animation ability
Supportive for text images
The Bad
Large image files
Large but limited color range
No photograph support
We hope this article hasn't discouraged you from including images in your email campaigns, but rather informed you on what file type to save your images as. Graphic files give pizzazz to emails, but they must be planned carefully if you'd like your subscribers to get the "full effect". You want your images to be compatible with all web browsers, small enough to download quickly for email users, but clear enough to "get your message out."
---
Want to test how your images look on different web browsers and mobile views? Create your first campaign and try out our Inbox Preview Assistant, today!