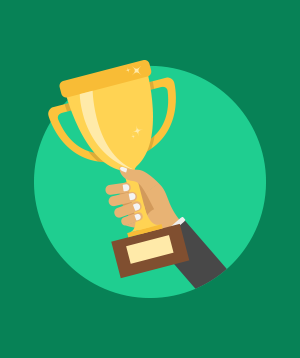 Email Marketing Tips & Features That Will Make This Years' Newsletters The Best
Customer experience matters more than ever. So, how do you give your clients the best experience possible? Luckily, with FireDrum, you can focus on delivering great content and products while we take care of the rest. Our system is designed to adapt to all size devices while carefully tracking the behavior of each subscriber. Take advantage of our free email tools and authentication services to get in front of your contacts and competitors.
Use Mobile Friendly Emails
Concentrate on your email's message and imagery rather than its responsiveness and layout. Emails built in our drag and drop editor are built to automatically adapt to all phones, tablets, and desktop sizes, giving you a competitive advantage and a break from testing frustration. Since the launch of our drag and drop builder in 2016, we've seen steady growth in engagement and click-throughs.

What does this mean for your subscribers? No more pinching, turning, or squinting! This mobile-friendly feature will make your emails easier to read and easier to engage with.
What does this mean for my business? With our drag and drop software, outsourcing an email developer isn't required. Our builder requires no HTML or coding experience, giving you the ability to design with freedom. Test the design and overall look in our side-by-side mobile preview.
Learn More >>
Add Professional Images
Make your emails stand out with elegant and professional stock photos. We teamed with Pixabay to bring you their entire library of free stock into your email account for no extra cost. Search, edit, and incorporate thousands of images into your newsletters for FREE.
All images you find in FireDrum's stock photo library is legal (C00 licensing for commercial use) and free to use across your campaigns. Incorporate these images to break up long walls of text, to replace blurry images, or to simply add something attention-grabbing for your readers. To access the library, follow the steps below.
Open your FireDrum account. To access the stock photo library, you must have a campaign open. If you don't have an account with us, sign up for free (no credit card required).
After you open your campaign, access the "gallery tab."
While in the "gallery" view,  you'll see a large orange button that says "Need Free Images?" Click on it to access the free library.
A new window should now open. You'll see a few options here. Configure any settings you need and type a general topic into the search bar. Push "search" to move forward.
Once you find an image (of a group of images you like), simply click on the thumbnail to add it to your library. While it's loading, explore more images or exit out of the screen. Exiting the screen will not stop the upload process.
The free stock photos you chose will automatically appear in your image gallery once it finishes uploading. To add it to your email, use your mouse to drag it from the library to the desired image block.
Authenticate With DMARC
Integrating DMARC/DKIM isn't an option anymore – it's necessary if you want to land in your subscriber's inboxes. Major ESPs and ISPs (like Gmail and Yahoo), will mark your email as spam they can't find specific records through DNS that authenticate the sending. Add the records yourself by following our step by step guide, or contact our email specialists to order DMARC services.
Get The Steps >>
Embrace Automated Marketing
After years of data collecting and market monitoring, we can confirm that automated email messages aren't just a trend – it's a way of communication. Automated emails allow you to provide your subscribers with important information instantly, and build a solid relationship without having to sacrifice your time.
Sending welcome emails is the best way to establish a connection and open the lines of communication. Once someone subscribes to your list, you can have our system automatically send them a "hello" that describes your brand, your goals with email marketing, and even feature some of your best-selling products. If you ever needed to change the content, simply edit the campaign (or start over), and update the automation settings.
Drip email campaigns are a creative way to get your customer's attention and keep them involved without the "pushy" mentality. Design and schedule these unique campaigns to send at certain intervals. Feature blogs and products, or just send a few personalized emails to your subscribers with the drip.
Configuring and optimizing trigger campaigns will increase consumer engagement and sales. "Triggers" are emails that are sent automatically based on what the subscriber showed interest in before. For example, if you send an email blast about shoes and they clicked on the boot section CTA, you can design a follow-up email that features only boots and matching accessories.
Closing Note
We hope this blog post provided some ideas and tips that will improve your emails throughout the next year. If you need help accessing the free stock photo library or configuring automated emails, reach out to our support team! We're here to help and want to see your emails succeed.
---
Looking for design inspiration? Explore our library of free templates and graphics by signing up.