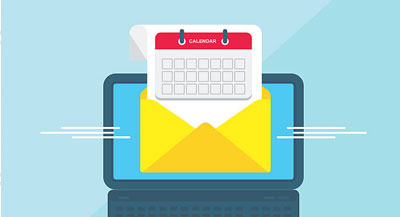 Many businesses use trigger emails to get closer to their customers. This email marketing strategy is relatively convenient and, if used well, can help your business become more successful. There are multiple kinds of trigger emails, one of them being date-based trigger emails. This type of trigger email is very common among both businesses and consumers alike because of the simplicity of set up and impact they have.
What are Date-Based Trigger Emails?
Date-based trigger emails are emails that businesses send to a customer during a special time of their life. For example, a business could send this kind of email during a customer's birthday or an anniversary. Triggered emails can be set up to go out based on a customer's data you've collected and date range you have set. If you want to send all customers a certain email 3 days before their birthday you can do that with triggered emails. These messages provide the customer with special offers or thanks that entice them to purchase more from your business. There are many benefits to using this type of email marketing campaign for your marketing strategy.
The Benefits of Using Date Trigger Emails
Not only does this email marketing tactic make customers feel special, but it can also help increase the customer loyalty of your business. If a business treats their customer like a close friend, then the customer will feel very comfortable and more than happy to purchase more products from this same business. By sending date-based trigger emails, you and your business are building a personal relationship with your customers.
These emails are also automatic, which conveniently helps businesses save time. Businesses already focus on their products, shipping, and many other tasks that are usually more urgent. It may take quite an investment initially, but can most certainly be worth it in the end. Here is an email marketing tip: apply the 80-20 rule. 20 percent of your investment will yield 80 percent of your results. If you invest enough time in setting up your date-based emails, as well as building that personal relationship with each of your customers, then it will lead to a greater chance of obtaining more revenue.
Proper Ways to Use Date-Based Trigger Emails
Date-based trigger emails may very well be a worthy investment, but only if this opportunity is properly taken advantage of. You cannot bombard your customers with emails every day, lest your customers become overwhelmed and lose interest very quickly. With the right techniques, you and your business should be able to keep your customers regularly engaged with your date-based emails. Here are a few examples of when to send your customers these date-based emails.
Birthdays
When your customer reads "Happy Early Birthday" or something along those lines as the preheader text in the email from your business it has been shown to increase open rates. Try adding a special offer to this email that sends out a few days or even weeks before their birthday to increase your click-through-rate. Another tip would be to send the email to those that have not yet opened the first one a few days after to help increase your overall open rates. By using different messaging you might find customers are more likely to open with a set of subject line and preheader text.
Anniversaries
A very common type of anniversary email trigger is the anniversary of the day the customer first signed up. You can offer them an exclusive offer or even just a thank you for each year they remain a loyal customer to encourage them to stay with you. The whole point of sending anniversary or birthday triggered emails is to increase customer loyalty and drive revenue while spending little time setting up the entire campaign. Within a few steps you can have date triggered emails sending out to your list of contacts on a daily basis.