Today we're going to talk about something very near and dear to me – making money. More specifically, leveraging email marketing to convert interested buyers into revenue.
One of the most common questions I hear at FireDrum is, "How can I turn a list of email addresses into customers?" Because let's be honest, that should be the goal of all email marketing, right?
I want to share a very basic outline of what my typical email marketing sales funnel looks like. I've been utilizing this across several industries, several lists and I've seen consistent and positive results.
The most important takeaway from this blog is that each item has only one job. What I mean by that is the email subject lines only job is to get the user to open the email. The body of the email is to build value around the call-to-action, the call to action's only job is to get visitors to the landing page and so on. You will see a notable drop off in conversions when you start assigning multiple jobs to an individual item.
Let's get started…
Email Marketing Newsletter
Subject Line
Like I said above, the only job of the subject line is to get the consumer to open the email. The subject line should be informative yet leave enough intrigue that the consumer will be inclined to open it.
I won't go into too much detail in this blog as I've already covered how to effectively write subject lines in my "35 Subject Line Formulas to Boost Your Open Rates" blog.
Email Body
I typically use the opening of the email body to support and build upon the subject line. Reaffirm what the subject line promised, and build the trust of the consumer that you will soon fulfill that promise.
Remember, the email body is not where your sales pitch happens. This is only the second element of our sales funnel and at this stage we are still building the trust and value about what we are going to sell them further down the line.
Use the email body to continue the narrative, continue to build intrigue and push consumers to the call-to-action.
In my own nerdy way, I look at my sales funnels as a story telling tool. Each click and movement along the funnel reveals slightly more about the unfolding adventure, culminating in the epic final plot twist (conversion).
Call To Action
This is a common place I see a lot of email marketing initiatives fall flat. The two most common mistakes I see are:
Not including any call to action at all
Using the wrong call to action
What I mean by using the "wrong call to action" is putting your final call to action too early in the sales process. Remember, the email call to action only has one job and that is to get users to move to the next step of the funnel – the landing page. Do not use your final call to action too soon. "Download now", "Sign Up Here", "Shop now", etc. Those are all hard closes. We want to move the user onto the landing page with as little hesitation as possible.
An effective call to action at this stage would be "Continue reading about X", "See how we can help", "Learn more about X", and so on.
Landing Page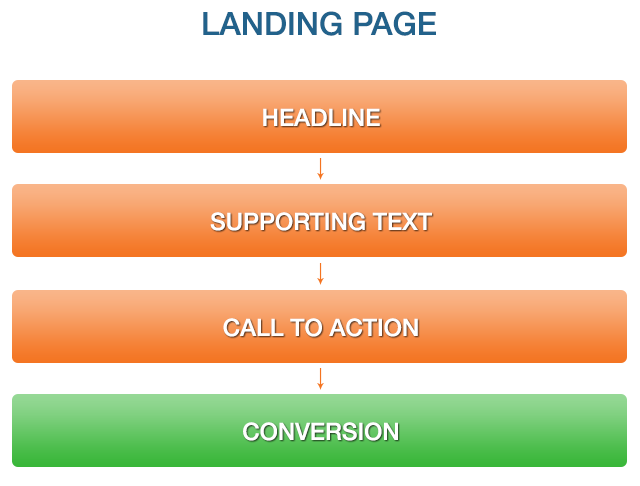 Note: A landing page, often referred to in the industry as a "squeeze page" is a custom built page with the sole focus on converting traffic to leads or consumers. This is commonly done by removing all distractions such as site navigation, social links, elements that are not relevant to the goal, and giving the visitor only one option – convert.
Headline
The headline is usually the first place where I outright exclaim what the offer is. An example would be if I was trying to sell an eBook, my headline could be, "The Ultimate Guide to Writing Subject Lines." You're putting your value proposition front and center. After the headline there should not be any confusion about what's in it for the potential consumer.
It's also recommended to use a supporting "sub-headline". Continuing with my previous example my headline and sub-headline becomes, "The Ultimate Guide to Writing Subject Lines. Everything you need to know to boost your open rates."
Supporting Text
Similar to the email body text, this text should explain the benefits of your product, webinar, ebook – whatever you are selling. Keep it short and sweet. Offer no confusion or distractions. Bullet pointed items are often used here. Keeping in line with our strategy of each element having only one job, the only job of this supporting text is to get people to click the final call to action. This message is often conveyed by mentioning, "By download this guide….", "When you download this guide you'll learn…", and so on.
At this point you're "assuming the sale" and planting the idea in the consumers mind that they've already converted.
Call to Action
The final call to action, typically a button, needs to reconfirm what is about to happen as soon as the consumer clicks it. In my previous example, I'd use something along the lines of "Get Your eBook Now".
I always (reread always) avoid words commonly associated with sites you don't want to provide with your email and contact information. For example, words like "Send", "Submit" and "Download" are all terms that instantly cause a point of friction with consumers.
Your Turn
Do you have any secrets to boost email marketing conversion rates? Let us know what tips you have over on our Facebook or Twitter.
Cheat Sheet
Download the image below and reference it while you're designing your next email marketing campaign