Add Attractive Backgrounds to your Emails to Increase Engagement and Brand Awareness
Want to add a background image to your email campaign, but not sure what images to use, how to add one, or where to place your it? Don't stress. Use this as your "all-knowing" guide to email backgrounds.
Background images are a creative way to bring attention to certain sections in your email and can be used to highlight your brand's colors or message. Although backgrounds can be fun, it's important that you know the benefits, limitations, and rendering issues that may be associated with using background images. Keep in mind, this guide is curated for FireDrum Email Studio users – features will vary between each email marketing software. Start exploring our background image library by signing up for free. No credit card required!


How to Add Background Images in FireDrum
Adding a background image to your email campaign is easy. When you're working in FireDrum Email Studio, navigate to the "content" tab on the left panel. If you're having issues accessing this tab, make sure you're clicked inside of the campaign. Here you'll have the option to "use background image." Toggle this option to turn on/off the background image feature. You can change this background image option before, after, and during the creation of your campaign.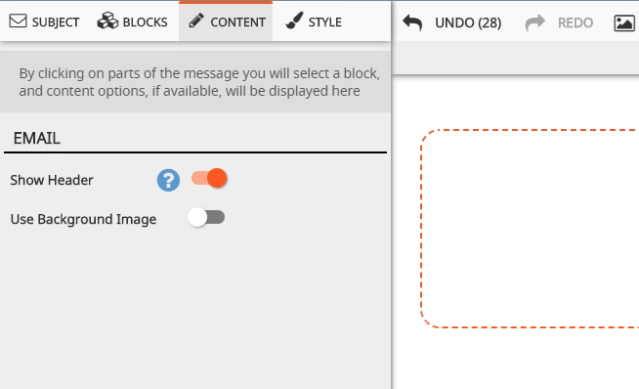 After pushing "need free images," a new box will appear over your newsletter. This box allows you to search, sort, and filter images according to your specifications. Keep in Once you turn this feature on, you'll have three options. 1) Add you background images' link in the space provided, 2) click on the "3 dots" to choose an image from our background image library, or 3) click on the "3 dots" to choose a background image from your library . When you click on the "three dots" to pick an image from our library or your own library, a new window will appear. Search, sort, and 'insert' your images directly from this window.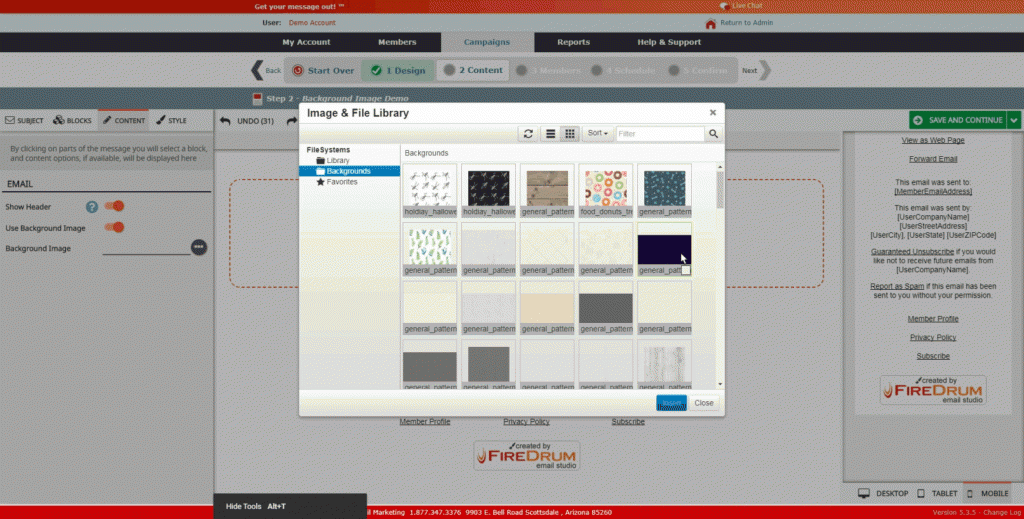 As soon as you add your link or 'insert' your photo from the "backgrounds" image library/your own library, the image will fill your emails' outer background. Change where your background image displays by clicking the "style" tab for each block.


Note, outer background and/or inner background color need to say "transparent" for the background image to display. By choosing another color, the background image will not display for that section. Change each block individually by switching the global setting to the single block setting in the "style" tab.

When and Where To Use Background Images
Use background images to enhance your message, not to present a product or display an infographic. Some email service providers cannot correctly render and do not support background graphics. Meaning, your image may not display correctly or it might not display at all.
Email service providers that don't support background images:
Outlook 2003
Outlook 2007
Outlook 2010
Outlook 2013
Outlook Desktop
Thunderbird
Lotus
For the ESP's that do display background images correctly, optimize this feature to highlight a section, bring attention to a CTA, to separate a product gallery, heading, or even just to create an enchanting email background.

What Backgrounds to Avoid
Backgrounds are not supposed to be the "main attraction" of your email, so don't make them. When adding background images, try to stick to a single color and subtle textures. For holidays and special events, adding a themed background is nice but make sure that the image is seamless and not distracting from your actual message. If you're not sure how your background image may look, test it out in our inbox preview assistant tool.

FireDrum's Background Image Library
FireDrum's background image library is completely free to use. All of our images are seamless and have been tested to display properly in supporting email service providers. New images are added weekly.
Background photos added to email campaigns are always tiled.
Background photos you upload will automatically be resized to fit our editor's specifications. Although there are no size limitations, we recommend uploading images that are larger than 590px and smaller than 10,000px. Images that are smaller than the recommended size can look blurry.
---
Have you seen our new stock photo feature? Learn how to add free photos from our free stock image library and get started,today.