6 Tips for Creating Email Newsletters that Get Read
Email is the predominant method of business and marketing communication, ever since the turn of the 20th century. Now, it's not uncommon for all types of businesses to have email lists, from global corporations to small mom and pop shops.
The most common dilemma, however, is how these organizations can create email newsletters that are not only relevant, but also engaging to their audiences. After all, engagement leads to a higher click-through rate (CTR), and that means more people are overall interacting with your business and website.
Done well, email marketing is a powerful marketing tool. Just because we all are practicing "social distancing" doesn't mean we should lose track of business communications. To help keep you in front of your customers, we have put together a helpful guide on how you can begin driving your CTR with brilliant newsletter designs.
1. Make Your Newsletters Mobile-Friendly
You may have heard the term "mobile-friendly" before, but what does it really mean. Mobile-friendly is a compatibility topic, in which you are adapting a specific version of your website to be easily accessible on mobile devices, like smartphones and tablets.
In this case, we are talking about email. More than 60% of all internet traffic comes from a mobile device. Therefore, we can reasonably infer that a majority of internet users are also using their mobile devices to check their emails.
If you're going to send an email newsletter, you should first make sure it will be viewed easily on all mobile devices. Fortunately, FireDrum offers mobile-friendly email templates you can customize to make this task simple. We also offer a free tool that makes it easy to check how your email will look on all devices.
Though, using a mobile-friendly email template is only the beginning. You should also follow these tips to achieve a mobile-friendly design for your email newsletter.
Limit a lot of text. Stay on Topic.
Use engaging images.
Write succinct, captivating headlines.
Use captivating subject lines
Use the preheader to quickly describe what is in the newsletter
Check out this perfect example of an email that follows all of the tips above.
This email utilizes more visuals and less text. Combined with irresistible headlines, subscribers may find it too difficult to ignore the content.

2. Add Your Own Personal Touch
In today's digital world, where technology can seem to be automated and out of touch, personalization is a breath of fresh air. Just think of the last time you've received a cold call from a person that didn't know anything about you and then put your mind on your emails you send out. 
Are you using this same strategy? People are usually very busy with their lives, work, and other things. Opening an email takes a lot of time and effort. Therefore, make the most of the attention your subscribers are providing by crafting emails just for them.
After all, personalized emails have a transaction rate six times higher than basic email blasts.
Fortunately, personalizing your email newsletters is not difficult. The task just takes a bit more time and effort. Here is how you can personalize your emails:
Add the subscriber's first name to the subject line or email body.
Segment your subscribers based on their behaviors.
Utilize dynamic content to change newsletter blocks based on the recipient.
Another method of personalization is employing a welcoming email newsletter design instead of a generic one used by countless other companies.
Just take a look at how this company used a unique email template that resembles a hand-written note from an editor.
Email marketing software, like FireDrum, offers this software to make personalization less or a hassle and more of a benefit. By putting more time into your email newsletters in this way, you can more than triple the return of your investment.
3. Tell Captivating Stories
Great stories always attract readers. Every subscriber has a side of curiosity, and the entire purpose of sending a newsletter is to inform your audience and get them to visit your website.
Telling amazing stories with both text and images is a great way to keep your readers engaged. This company does a great job in this regard. Instead of asking for donations, they got creative and showed a person in need of their story.
Using pathos as a marketing technique is quite effective, especially when you do it the way this company did.
4. Let Your Subscribers Choose Their Content Preferences
Overall, only your subscribers have a definite answer to what type of content they want to receive. You can only make guesses based on their behavior. Unfortunately, you may never know that you are providing the wrong mix of content until you start seeing a massive wave of unsubscribers.
This is usually because readers will almost never tell you that your content isn't what they want to read. With that said, have you tried asking them? This example from a book publishing company can show you how to have your subscribers pick their own content preferences.
Ultimately, readers can select the type of content they want, how often they want to receive the content, and what products they are interested in. For example, readers that selected 'Best Sellers' and 'Mystery & Suspense' would see an email like this:
This tactic will ensure that your readers are more likely to actually click on your emails with a passion for moving on with a transaction.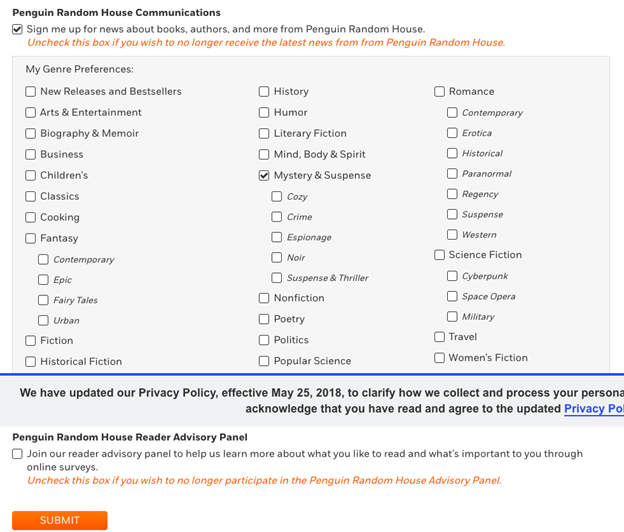 5. Don't Automate, Curate
Email newsletters are either curated or automated. To curate newsletters, you are hand-picking content and developing them to utilize a unique tone from other newsletters.
Automated newsletters, on the other hand, do all of this work for you. While automation undoubtedly has its perks, the best way to expand your email list is to hand-deliver your content to your subscribers.
This BuzzFeed newsletter for parents is an example of curation. You can tell by how BuzzFeed uses its actual tone here.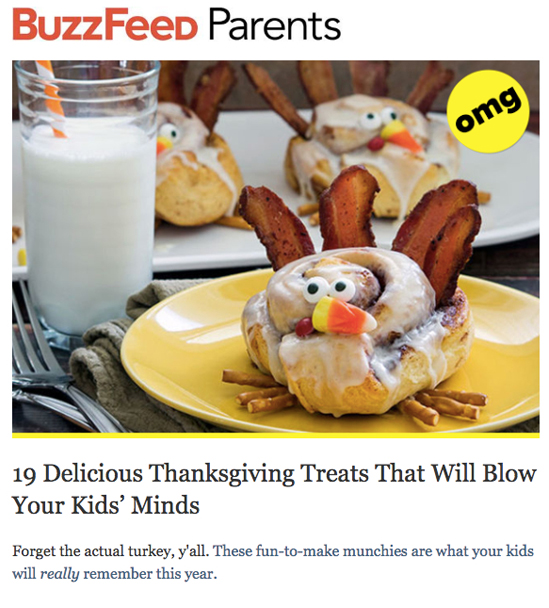 6. Check Data and Improve
Email marketing, like any other marketing initiative, is perfected through data and iteration. The more you are willing to make adjustments, the better. After you send an email, take a look at your metrics.
This will help you understand the improvements you need to make. For example, if your open rates are low, you should:
Experiment with different subject lines
Personalize your subject lines
Ensure that the "from name" is distinguishable
Now, if you are click rates are low (subscribers are opening, but not clicking), then you should:
Work on your headlines
Use compelling visuals
A/B test your call-to-action (CTA)
Make sure your layout is mobile-friendly
Conclusion
Sending email newsletters is an excellent way to bolster your email list and keep your subscribers engaged. The next time you are developing a new email campaign, use these six tips to improve the performance of your email newsletters across the board.