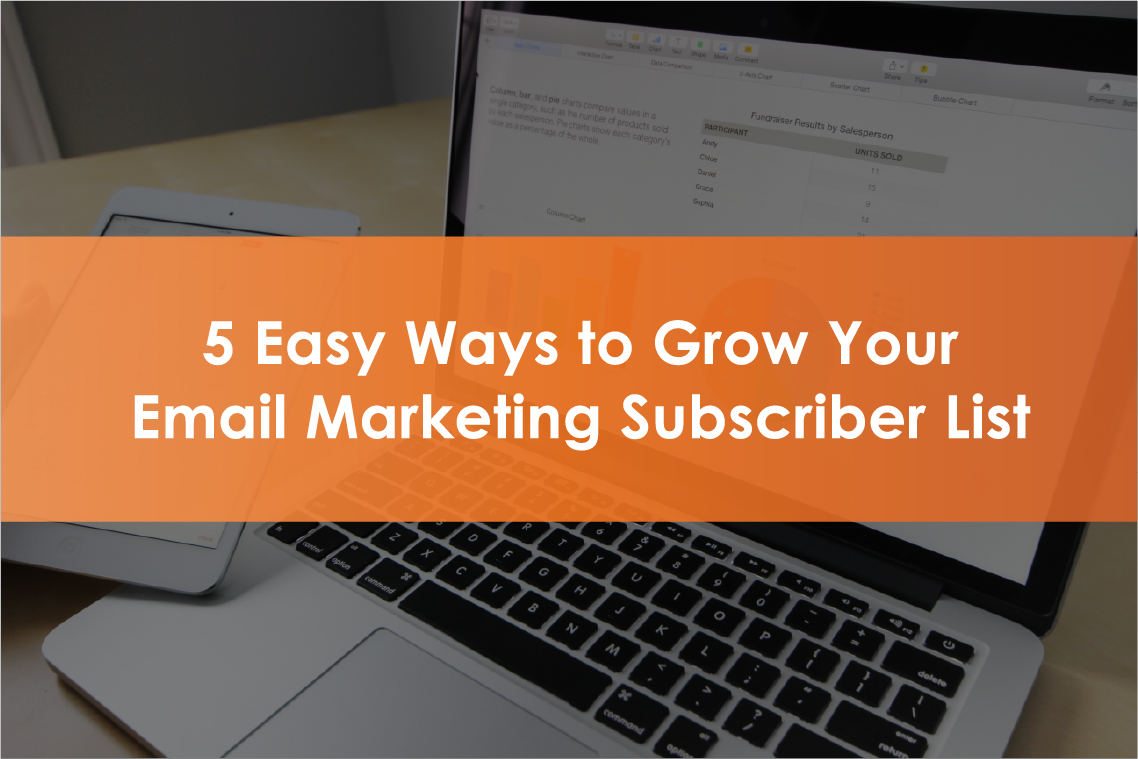 The hardest part of any journey is taking the first step. When you first start out with email marketing, growing your subscriber list can seem like a daunting task. How do you get your first few subscribers? How do you go from zero to one… to 10, 100 or one thousand?
As always, the first step is to create outstanding content. Before you publish an email marketing campaign, always ask yourself "Would I share this?"
If your content isn't share-worthy, you're missing something.
Exceptional content should always be your #1 priority. But once you have great content, how do you share it?
Here are some tactics and tools for growing your email marketing subscriber list that can help get you started:
Use your network
When you are trying to grow your email marketing subscriber list, don't forget to ask the people you already know. Reach out to friends, colleagues, anyone who you think could benefit from subscribing to your list, or who might know someone who would. You would be surprised how many people build something and just expect people to show up. You have to invite them to come see what you're doing.
You probably know more people than you think, and there's no harm in reaching out and letting them know what you're working on. Don't spam everyone over and over again, but definitely tell them once about it.
Invite people directly to sign up. Don't just expect that they will on their own. Send them a note along the lines of, "I'm starting a newsletter and I think you might enjoy it. I'd love it if you'd sign up!" Include an opt-in form in the email or just link to the form on your page.
Make subscribing easy
This one seems obvious, but there is no shortage of people who really need to hear this. It should be incredibly easy to sign up for your email list.
There is nothing worse than someone not signing up for your newsletter because they cannot figure out how. They may have really wanted to subscribe, but they couldn't figure out where to go. If you are trying to grow a subscriber list, it should be blatantly obvious where you sign up. There should be multiple opt-in forms throughout your site.
Add a link in your website's header, footer, sidebar, at the end of blog posts, in a feature bar, in the middle of blog posts, in the author bio, as a pop-up, as a hello-bar, etc. You don't have to do all of these, but do at least 4 different places and test which one is getting the most signups.
Paid Advertising (Google, Facebook, etc.)
It's fairly easy to set up a Google or Facebook ad, and they're a great resource to drive signups. Again, don't just expect that people will sign up if you link to your website. Drive traffic from your ads to a landing page (also easy to set up) that allows them to sign up directly.
Before investing in paid advertising, you should have a decent understanding of how it actually works. When you set up a pay per click campaign and create ads (such as Google AdWords), your ads might be displayed when people search for the key words that you specify to be associated with your ads. I say might, because you are actually bidding against other companies for the top positions. Assuming you are a top bidder and your ad does appear, you only pay if someone clicks on your ad (hence the term, pay per click.) The highest bidders receive the top positions and are likely to receive the highest click volume.
Make sure you do your keyword research before beginning your PPC campaigns. You want to target buyer keywords and not just general keywords that will end up costing you money without delivering results.
One of the most important parts of paid advertising is testing. PPC requires constant testing and optimization to keep the campaign performing. This isn't something you can set up once and then just let it run on autopilot. You need to constantly test different ad copy, keywords, bidding strategies, and landing pages in order to keep the campaign going strong.
Build a landing page exclusively for getting subscribers
Piggy-backing off of Tip #3, a landing page dedicated exclusively for signups can be incredibly useful. You can link to it anytime you want to invite someone to signup, and it's easy to create multiple versions and split test them to figure out which performs best.
The purpose of a landing page is to convert visitors to leads by completing a transaction or by collecting contact information from them. In order to make your landing page a successful conversion tool, try to include the following elements:
A headline and sub-headline
A brief description of the offer
A supporting image
Supporting elements – testimonials / security badges
A form to capture visitors' data
Another important aspect of landing pages is that they do not include the main navigation of your website. The idea behind this is to limit the distractions on the page. If there are links on the page that enable visitors to move about your website, there is a greater chance that they will abandon the page before converting.
Remember, with landing pages, less is more. A cluttered landing page also causes distraction and can confuse and overwhelm the visitor. It should be painfully clear why they are on your landing page and what you want them to do.
Give a free incentive
People will feel more comfortable giving you their information if they're getting something in return. It can be a free whitepaper, a discount code for products, or anything that provides some value to them will help seal the deal for a signup. These 'free incentives' are often referred to as 'Lead Magnets'.
In addition to making your visitors feel more comfortable with you, offering a free incentive will motivate more visitors to participate and convert. When something is free, it's an amazingly powerful motivator.
You have an opportunity here to show your visitors how you will treat them as customers. If you offer a free incentive that is valuable, your potential customers will remember that.
If you plan on delivering your free incentive via your email marketing provider, be sure to look into the functionality of click-through follow ups. Many email services offer the ability to send specific follow ups to people who clicked on the link within your email, and the people who did not. That means if someone downloaded your free ebook/whitepaper/[insert lead magnet offer here], you can automatically send them a follow up email saying "Thanks for downloading our free report! Did you have any questions for us? Etc. etc." Or, if they did not download your incentive, you can have it automatically resent to them with a message like "I noticed you didn't get a chance to check out our free report. Here's the link for it again, in case you missed it."
Having this additional communication with your leads can make a big difference in building your relationship with them during these crucial first stages. It's the kind of thing that makes people remember you in a favorable light.