4 Email Templates for Thanksgiving, Black Friday, and Cyber Monday
Our email design team has taken the time to build some modern and unique email templates you can use for your holiday emails. Below are some of our favorite designs.
These templates are FREE to use in our email marketing software. Start building your next holiday email, now!
Thankful and Grateful Greeting Card
Warm and inviting greeting card for your email subscribers. Customize this template's background image and text. Perfect for thanking your volunteers after an event, thanking donors, or thanking your subscribers for joining.
Hello Fall Newsletter
A great fall-themed newsletter for your subscribers. Send out the latest recipes, fall-themed crafts, or even the new products you have for the season! Edit this to fit your business's needs by removing sections, placing your logo in the header, and placing your content! 
Black Friday Collection
Get your subscribers' attention with this elegant Black Friday sale email design. This is perfect for promoting a sale, showing off your new holiday menu, or promoting your latest fashion show. Use this now for free with any account!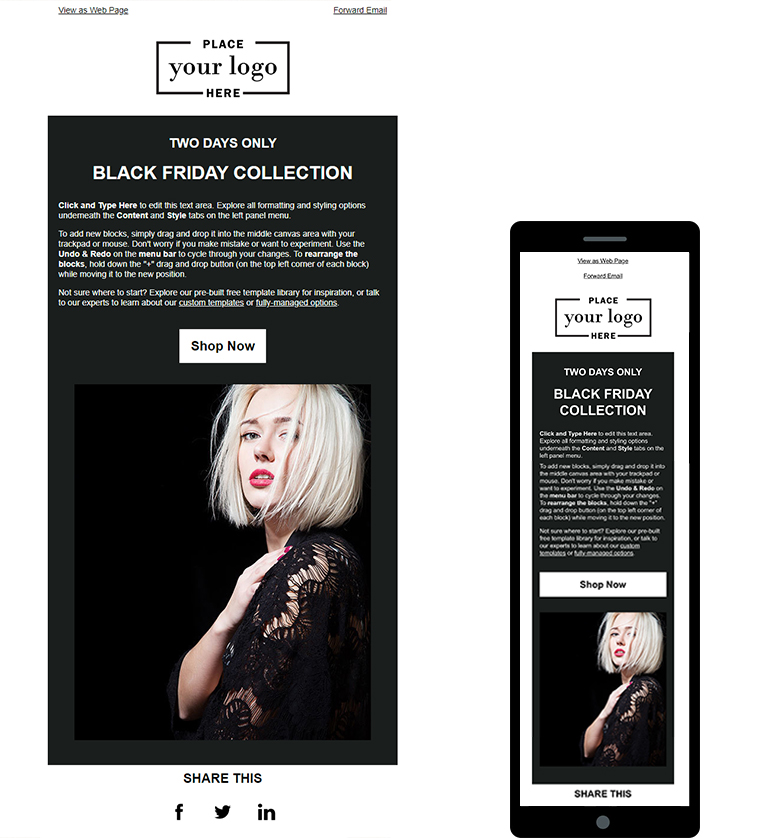 We're Thankful for You
Thanksgiving is a great time to give a little extra back to your email subscribers. Use this template to start off a great season of sales by giving your customers an incentive to start early.
Ready to Get Started?
The holidays are here! Get started with a free account now, and use all of these templates for free! Want to learn more about the best email practices for the holiday season? Download our 2019 Holiday Email Guide now